CUP: Kurt Busch Parked By NASCAR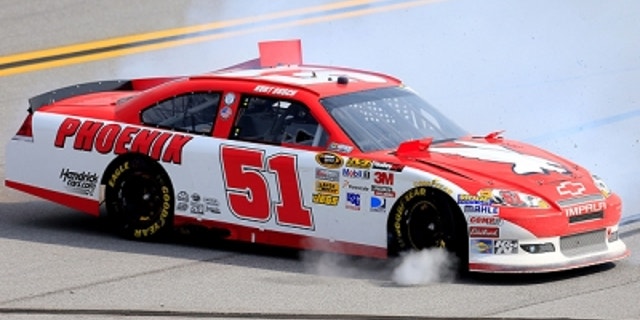 Kurt Busch didn't exactly go out in a blaze of glory in his final race with Phoenix Racing.
Busch crashed near the halfway point of Sunday's Good Sam Roadside Assistance 500, damaged his Chevrolet and then got into hot water with NASCAR.
After stopping his crumpled car on the track apron –and while safety workers were on the scene, Busch drove away. NASCAR asked him to stop via the team radio, but Busch later said he couldn't hear that instruction because he wasn't wearing his helmet.
"Stop, Kurt. They (NASCAR officials) want you to stop," team crew chief Nick Harrison told Busch over the team radio.
NASCAR parked the team for the rest of the race.
Busch was leading on lap 99 when he either ran out of fuel or lost fuel pickup and started dropping through the field. Jamie McMurray tapped Busch's car and sent him into the wall.
Safety workers had placed equipment on the car and were working with Busch when he drove away.
"I got out of the car and surveyed the damage, saw that it could still roll, so I jumped back in," Busch said. "I remembered with these engines they will run at 20 percent of fuel pressure to get it back to the garage. So I tried like heck.
"That is the competitor in me, which is the desire that I have and that is what gets misconstrued all the time. This is the way my life works. Today is a perfect example. I am leading, I wreck, I run out of gas, I'm still that competitive guy that tried to get back in the race and now NASCAR is yelling at me because I don't have my helmet on and I'm trying to get it to the garage so the guys can work on it.
"Now I'm in trouble, now I have this little storm right here. This is my life. I'm not complaining. I put myself in a lot of these situations, but it's on to good things now moving forward. I got all the bad luck out of the way. This year has been a great year to test me in every way."
After returning to the garage, Busch thanked his crew as they ended their time together. He will begin driving for Furniture Row Racing next week at Charlotte.
"That is just small team blues," Busch said. "You work as hard as you can to keep up with the big teams, and sometimes little itty bitty numbers will take you out."
Mike Hembree is NASCAR Editor for SPEED.com and has been covering motorsports for 30 years. He is a six-time winner of the National Motorsports Press Association Writer of the Year Award.