CUP: Kurt Busch Moves On From Fiery Crash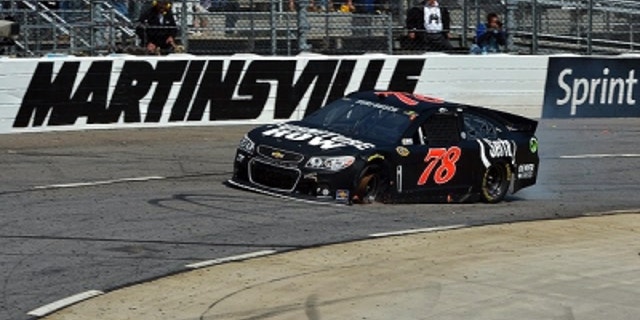 Kurt Busch wasn't going to let a little fire from last week at Martinsville Speedway slow him down in the Lone Star State.
Busch posted the fastest lap (191.225 mph) during the first test session at Texas Motor Speedway on Thursday and was second (192.369 mph) on the speed chart to Greg Biffle (192.864 mph) in the final round.
Still, Busch was fortunate to survive last week's fiery wreck with a sprained wrist and nothing more.
When Busch tapped his brakes going into Turns 3 and 4, the pedal went straight to the floor. Over the next few seconds, he pumped the brakes again. Nothing.
Suddenly, the action slowed way down. It was decision time, as Busch headed for Turn 1 with no mechanical assistance to slow his No. 78 Furniture Row Chevrolet.
With his right brake rotor disintegrating, Busch had two choices: head nose first into the wall or turn the car right in an attempt to scrub off speed. He chose the latter.
While Busch "stayed calm through it," just after impact the car burst into flames.
"It was the second closest time I've come to getting burned," Busch said. "The first was 2003 Kansas, when the motor broke and the block came apart, so there was a lot of oil that came shooting up through the fire wall and the transmission tunnel.
"That's when the fire came into the car with me and that's when I moved my extinguisher pull pin from the lower right side to the left side; that way I could get it on the way out."
While Busch was credited with quick thinking and using his extinguisher in the Martinsville fire, the driver says the only thing that crossed his mind was exiting the car.
"I don't remember pulling it," Busch said. "What happened was the radiator exploded and put out the flames. The flames went out while I was still in the car, so there was no need in my mind — there was no threshold of panic like 'oh (crap) I'm going to catch on fire. I'm going to be in trouble.' I got out of the car and the flames went out. I was able to absorb it all from the moment it happened."
On Thursday night, Busch will do his best to absorb a more magical moment as he receives the Major General Thomas Sadler Award for his contribution to the Speedway Children's Charities-Texas Chapter. Busch has been instrumental in raising more than $40,000 through the Kurt Busch Celebrity Bowling Tournament, Busch-Whacked Mud Run and a skeet shooting contest.
"I couldn't believe it when (Texas Motor Speedway President) Eddie Gossage called to say they wanted to recognize me for my philanthropy," Busch said. "I thought he was mistaken and calling for Patricia (Driscoll, Busch's girlfriend) and the work she does with AFF (Armed Forces Foundation). I have to say I was pleasantly surprised."
NOT THE SAME OL' SAME OL'
Traditionally, Roush Fenway Racing has excelled on intermediate tracks such as Texas Motor Speedway, where team owner Jack Roush has earned nine of his 131 career wins.
Greg Biffle was responsible for two of those victories and topped the speed chart on Thursday with a lap of 192.864 mph.
That's not surprising considering that Biffle was one of the Sprint Cup drivers that took part in the Goodyear tire test back in October. But given the evolution of the Generation 6 car, Biffle says the feel of his Ford has changed considerably since more downforce was added to the car.
"Yeah, the last time I drove this car was last year here and it has come so far since then," Biffle said. "It was definitely a handful then to drive and now the first few laps on the race track it has a lot of grip and is really fun to drive. You know, it is the same old Texas. We are sliding and a little loose and then tight and it is going to be a fun race."
Tire management certainly will come into play on Saturday given the abrasiveness of this track. While teams have run the same left-side tires for the last two seasons, the right-side tires have only been raced in the truck series.
For Biffle, who is sixth in the point standings, a solid run here on Sunday could help the team's Chase effort considerably. Fortunately for Biffle, seven of his 18 career wins have been earned at 1.5-mile tracks.
"If you would have told me I would finish 17th at Las Vegas and ninth at Martinsville I would have told you that you were smoking something," Biffle said. "I just never thought that would happen to us, but that is just the way it works.
"We plain and simply screwed up at Vegas, and I take most of the blame for that. We were just way off with the new car. California was more of us. We qualified second and had good lap times but had to start at the back with an engine change.
"This track feels good. I had really good speed here, second quick, and on the lap tracker our laps look fairly good. So I feel pretty confident we are going to have a decent weekend with at least a top-10 run and we will hone in on that as the weekend goes. I think we have a good chance at winning. Right place, right time.
Two-tires, four tires. Make it on gas, whatever it comes down to."