CUP: Keselowski Wins Driver Of The Year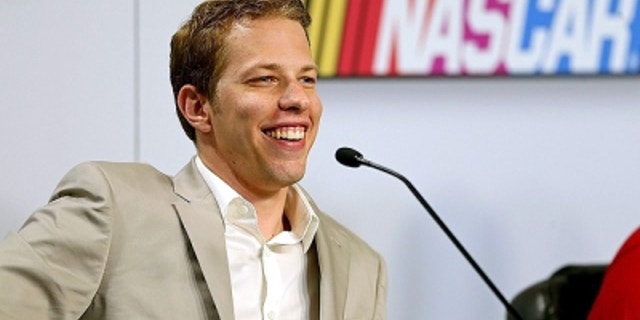 Brad Keselowski was voted the 2012 Driver Of The Year by an elite panel of motorsports broadcasters and journalists.
Keselowski, 28, a native of Rochester Hills, Mich., was a near-unanimous choice in the annual award, after winning his first NASCAR Sprint Cup championship and the first as an owner for Roger Penske.
"To be honored with the 2012 Driver Of The Year is a great way to cap off our championship season," said Keselowski, who also won the fourth-quarter vote. "The list is definitely a 'Who's Who' in the history of racing. It gives me great pride to see my name there with the likes of Mark Donohue and Mario Andretti, drivers who have transcended one particular discipline or series, and are considered some of the best to ever sit in a racecar.
"I get a lot of the credit for what we accomplished this year, but this season was successful because of all the hard work by everyone on the No. 2 Miller Lite team at Penske Racing," said Keselowski.
Andretti was the first DOTY winner and would add two more awards, while Donohue, who like Keselowski drove for Roger Penske, was the second winner (in 1968).
"It was a terrific 2012 season by Brad and the entire Miller Lite Penske Racing team," said team owner Penske. "With five race victories and consistent and productive finishes over the course of the long season, the team put itself in a good position for the Chase. Over the final 10 races of the year, Brad and the team raised the bar and ran aggressive, smart and disciplined races to win the NASCAR Sprint Cup championship. We are proud of all Brad has accomplished this season and we certainly congratulate him on winning the 2012 Driver of the Year award."
"This was a truly historic year for Brad and his team," said 2012 Driver Of The Year President Barry Schmoyer.
Keselowski scored 18 of the 19 votes cast by journalists and broadcasters, who voted in a secret ballot for a single driver. Ryan Hunter Reay, the 2012 IndyCar champion, received the remaining vote.
In the quarterly voting, Keselowski beat the NHRA's Antron Brown and five-time NASCAR Sprint Cup Champion Jimmie Johnson by more then double the points.
In its 46th year, the 2012 Driver Of The Year title is unique because it is the original award of its' type that encompasses all of the racing series and all of the drivers in the United States. Nineteen leading journalists and broadcasters from across the U.S., including SPEED.com Editor-In-Chief Tom Jensen, are on the voting panel. The last founding member of the award, Chris Economaki, passed away earlier this year.
Keselowski will receive his trophies and Tissot wristwatches at presentations at places and times to be announced later.