CUP: Keselowski Still Focused On Repeating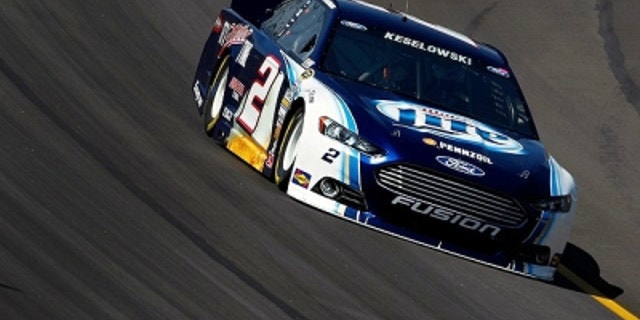 Brad Keselowski will not allow last week's setback to stop his repeat title run.
After NASCAR inspectors discovered unapproved suspension parts on the Nos. 2 and 22 Penske Racing Fords last Sunday at Texas Motor Speedway, the sanctioning body levied a 25-point penalty, a $100,000 fine for crew chiefs Paul Wolfe and Todd Gordon along with six-week suspensions together with the team's car chief, engineers and team manager Travis Geisler.
Although Penske Racing plans to appeal, as of late Friday afternoon a date had not been set. The aforementioned team members remain intact until Penske Racing's appeal is heard.
Keselowski said he wasn't "surprised" about the severity of the penalties, which were handed out on Wednesday. However, the characteristically outspoken driver elected to choose his words carefully on Friday.
"I don't think I've been surprised by much of anything in the last two or three days, but I think it's really important to allow the appeal process to work its way out on its own," Keselowski said. "That's why it exists. I'm thankful that there is a process for appeals because, obviously, we're in an 'agree to disagree' stage between Penske Racing and NASCAR, and there's, thankfully, a third panel or group to settle those disagreements."
Keselowski believes the parts in question were indeed approved. When told NASCAR said 'No,' he referred to his earlier comment of 'agreeing to disagree.' Still, the sanctioning body's statement included "all suspension systems and components must be approved by NASCAR. Prior to being used in competition, all suspension systems and components must be submitted, in a completed form/assembly" along with the penalties from Sections 12-1; 12-4J and 20-12.
Keselowski reserved further comments to allow "the appeals process to work out on its own." He added, "I don't want to jeopardize the ability to have a clear appeal."
Despite speculation that someone from Hendrick Motorsports turned in the Nos. 2 and 22 Fords, Jimmie Johnson, who battled Keselowski for the championship last season, asserted, "No, the Hendrick group and the No. 48 team did not rat out the Penske cars."
Johnson surmised that Keselowski's on-track achievements are the reason why the focus has increased with the No. 2 Ford.
"When you have success on your side, the magnifying glass, the viewpoint for everybody, NASCAR, other teams, it gets a lot more intense," Johnson said. "The best officiating in the garage area has always been your neighbor. That has just been part of NASCAR for years and years. That is why NASCAR has the procedures in place that they do in the garage area and why even in F1 today they are not allowed to cover their stuff anymore. It's just part of it.
"There are two decisions teams are faced with in the garage area. Everybody has people watching. We have been very impressed with the No. 2 car's staff and their ability to have somebody just stand and watch other teams. So this environment does take place in the garage area. Yeah, there are eyes open, but when a team sees something they have two options. One, they go home and try to adapt it to their car and understand it and see if they can make it work, or they go in the truck and say something. We don't say something."
Johnson did not shy away from the past indiscretions of the No. 48 team and crew chief Chad Knaus. Knaus has been known to push the envelope in the past. Since 2001, Knaus has been busted four times by NASCAR. His latest penalty – which came after Johnson failed pre-race inspection in the 2012 Daytona 500 – was overturned on appeal.
"We are a company built on performance," Johnson said. "We are a company that tries to understand the rulebook as close as we can to the law. Sure, we have had our issues with it, but that is racing. It has been that way since day one of racing. We go in there and we try to be as smart as we can and conform to the rules and put the best race car on the track.
"With all that being said; no, sure there was a lot of activity around the Penske cars during the test day, just like all the other cars and everybody is watching, everybody is looking, but in no way shape or form did anybody from the No. 48 car walk into that truck and say anything."
Still, Johnson has been critical of the way Keselowski has handled himself as the champion. While the five-time champ admits that Keselowski "is a huge talent" and his crew expects to contend with the No. 2 team on a weekly basis for a long time, he added "Brad will say things."
"When you're in the sport long enough, you learn when you need to be careful and no team is immune to the issues," Johnson said. "Somebody told me this after we won our first championship, and the magnifying glass intensified: 'The wind blows the highest at the top of the flagpole.' Times that by five championships, and there isn't a car more scrutinized in the garage area than the 48. It's been that way for a long, long time. It's a reality we live with.
"They're now transitioning into that world — and I'm not trying to say in the inspection area, because the car was wrong — but in statements said, even in posture of how you handle a situation. Once you're the champion, it changes. People pay so much more attention to anything and everything you do, and that's where I feel like he will grow in the next few years.
"He's on the fast track for experience right now. All of our paths have pros and cons to it. For the longest time, mine led me down this vanilla road, and his is leading him toward Rocky Road."
Last Sunday, the defending Sprint Cup champion took control of the situation. After the team endured three trips through inspection, a complete change of the rear end housing on the No. 2 Ford and a scramble to line up on the starting grid, Keselowski inspired his men.
"I'm reminded of a saying," Keselowski started on the radio during the pace laps. "In the face of adversity, you can define the moment or let the moment define you. This is our opportunity to define the moment. After all this team has been faced with and adversity, I'm proud of what we got — and that's a championship team . . . I believe in you 100 percent. Keep your head up. Let's take the day and show 'em. Let's define the moment."
Keselowski's "define the moment" was a rally cry to the No. 2 Penske Racing team. He preached "don't just live through" the adversity and "definitely don't cower under it." Keselowski led by example — with a ninth-place finish in a car with a completely foreign suspension package compared to what he had practiced all weekend.
"Show that you are capable of being the best," Keselowski said. "Adversity, to me, is opportunity. Adversity is an opportunity to show who you are and who you can be. And it's a good thing. How poor and how pitiful would it be if there was no adversity in what we did? It would really suck to me."
Keselowski displayed amazing resolve during the 2011 season, when he busted his ankle in a testing accident and came back four days later to win at Pocono Raceway. The victory elevated the Brew Crew from 21st to 18th with five races remaining before the Chase. Keselowski won again in Bristol and battled his way to 11th in the standings. After the points were recalculated to reflect his three victories, Keselowski started the playoffs ninth in points.
If Keselowski's appeal is denied, the team will be taxed with losing its crew chief, car chief, engineer and team manager. Johnson, who has been through the ordeal of losing Knaus twice, said, "Your depth chart really gets challenged at that point."
But Keselowski insists he and the team are up for the challenge.
"It's an opportunity to continue to show how strong of a team Penske Racing can be. I think there's a lot of passion inside this group," Keselowski said. "The strong will survive."