CUP: Keselowski Still Brings Color To NASCAR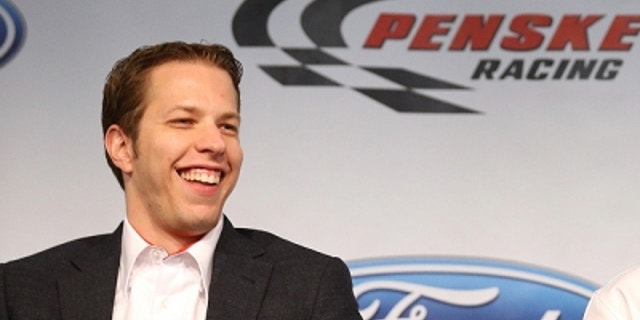 A year ago at this time, few people figured that 2012 would end with Brad Keselowski as a first-time NASCAR Sprint Cup champion. But the Michigan native made a stunning title run as five-time champ Jimmie Johnson faltered in the final two races of the year.
Success does not appear to have changed Keselowski much.
Wednesday night, during the Penske Racing stop on the NASCAR Sprint Media Tour Hosted by Charlotte Motor Speedway, Keselowski was his old self, by turns funny, self-deprecating, provocative and occasionally outrageous.
Clearly, Brad being Brad is still very important to Keselowski and that's a very good thing as NASCAR tries to make a big marketing push this season behind the new Generation 6 race cars. Having an outspoken and colorful champion is a plus, in this era of corporate conformity.
Wednesday night at the Penske stop, Keselowski hit on a number of topics.
In last year's penultimate race at Phoenix International Raceway, Keselowski launched a blistering post-race tirade after Jeff Gordon trigged a brawl on pit road by deliberately wrecking Clint Bowyer.
"I think that kind of stuff — intentional wrecking — is extremely harmful to the sport," said Keselowski. "It jeopardizes the credibility of all of us."
Queried whether he feared the on-track contact might somehow threaten his championship run, Keselowski said it did not. "What I saw was the championship I was hoping to win become a back story to something that was kind of chicken s—t," he said.
As for what he thought Danica Patrick could do in her first full season in Sprint Cup, Keselowski said, "What do I really think Danica can do? She can bring a lot of attention to the sport. … I think it would be a great season for her to finish in the top 20 in points in her first full-time season in Sprint Cup, which is something I was not able to do."
Asked if that was realistic, Keselowski smiled and added, "Wasn't for me."
As for his own abilities, a year ago at this time, when SPEED.com asked Keselowski how he graded himself, he said ,"I'm a B+ driver with the ability to be an A."
Wednesday night, Keselowski said, "I'm an A- minus, I'm like a 90."
Asked what it would take to become A driver, he added, "What do I need to find the next level? I need a teammate that can push me to do better. That's why Joey Logano is so important to this race team."
Keselowski said a big reason for his development as driver was working with former Penske teammate Kurt Busch in 2010 and 2011. "Kurt's one of the best teammates I ever worked with," said Keselowski. "… The level of talent he brought and how that made me a better driver is part of why I was successful in 2011."
Will Logano be able to push Keselowski in 2013?
"We'll find out together," Keselowski said, "but I think so."
As for his ongoing quest to buy a used military tank — Keselowski lives on a huge tract of land owned by Dale Earnhardt Jr. — the Sprint Cup champion laughed.
"I'm working on it, man," Keselowski said. "It's not easy. Do you know how hard it is to get a tank?"
Tom Jensen is the Editor in Chief of SPEED.com, Senior NASCAR Editor at RACER and a contributing Editor for TruckSeries.com. You can follow him online at twitter.com/tomjensen100.