CUP: Keselowski Looks At Big Picture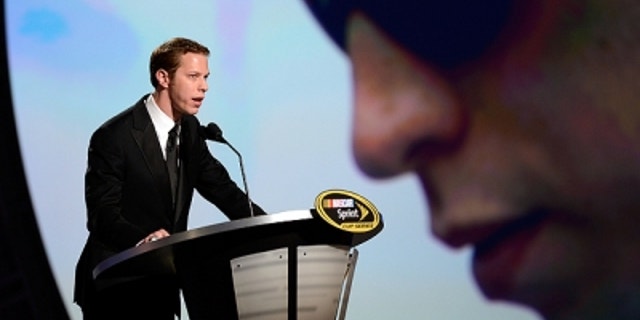 It's clear that Brad Keselowski wants to be more than simply a NASCAR champion.
He wants to be a force.
Keselowski addressed that topic in the closing moments of his Sprint Cup championship speech Friday night.
"I hope as a sport we can continue to find common ground, to unify," Keselowski said near the end of a mostly off-the-cuff, 12-minute speech. "We have some of the smartest people that can solve any problem. As a champion, I want to be your leader, and I want to help you make it happen."
In other words, Keselowski wants to be more than a 28-year-old Midwestern hotshot driver who swept into the sport a few years ago and Friday night held its biggest prize, not to mention $12.1 million in seasonal prize money.
He wants to be at the center of change as it comes, and he wants to have a voice in how the sport is shaped and seen. He has had a clear view of the many empty seats in grandstands in recent seasons, and it's clear he wants to be part of the solution, not part of the problem.
On a championship night in which many expected Keselowski to give an animated speech, in line with his sometimes raucous reputation, he instead was measured and restrained. His voice cracking after two weeks of interviews, he thanked virtually everyone who had anything to do with his championship ride, and he mentioned other champions, including Jimmie Johnson and Dale Earnhardt Sr., while voicing surprise that his name now hangs alongside Earnhardt's in champions row.
Although Clint Bowyer finished second to Keselowski in the final standings, the Chase was mainly about the Dodge driver's battle with Johnson. Their competition was never more intense than in the closing laps of the Chase race at Texas Motor Speedway, where they banged their cars together in pursuit of victory.
"It was one of the proudest races of my life to be able to run with you," Keselowski said as he addressed Johnson. "That was just phenomenal. I can't believe I was racing a five-time champion."
Although most of Friday night's speakers used Teleprompters during their speeches, Keselowski used only a few notes, crafting his talk as he moved along.
"I think too many people try to plan those things out," he said later. "You just go with how you feel and move where the moment takes you."
Friday night it took him to the end of one long road but to the start line of another.
Mike Hembree is NASCAR Editor for SPEED.com and has been covering motorsports for 30 years. He is a six-time winner of the National Motorsports Press Association Writer of the Year Award.