CUP: Keselowski Keeps It Close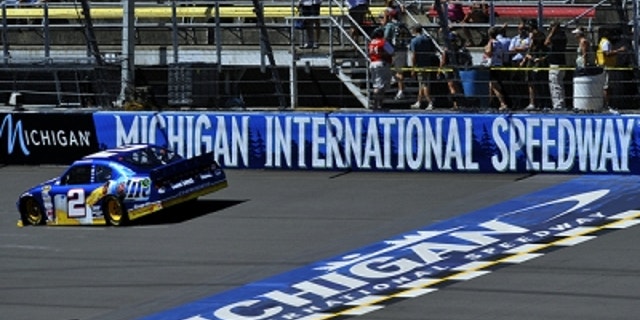 Brad Keselowski didn't get the win he so covets at his home track, Michigan International Speedway, but he further strengthened his case as a serious championship contender with a runner-up finish in Sunday's Pure Michigan 400.
Keselowski led from Lap 183-190, when Jimmie Johnson passed him, followed shortly by Greg Biffle. But when Johnson's engine let go on Lap 195, it allowed the Michigan native to reclaim second place, which is where he and his No. 2 Penske Racing Dodge finished for the second race in a row.
Over the last seven races, Keselowski has been the hottest driver in NASCAR, with one victory, five top fives and no finish worse than ninth. His average finish during that stretch has been a blistering 4.43.
At Michigan, Keselowski said he didn't have the fastest car, but used fuel strategy to optimize track position and put him in contention to win.
"Between the 48 (Jimmie Johnson) the 16 (Greg Biffle) and the 55 (Mark Martin) those three cars were just I think the class of the field today," said Keselowski. "My team just did an awesome job just executing on pit road and strategy and everything it takes to make it happen to get us up to the front. We just needed that little bit more speed to be able to get with him."
Keselowski said that while he was disappointed at not winning in his native state, he was encouraged by his performance, which bodes well for his chances in the Chase for the Sprint Cup.
"There's nothing I want more I want than to win here at Michigan and you can feel a little bit of foreshadowing going on with the Chase coming on and those cars running right by each other," said Keselowski. "It's an honor to get to race with guys like Jimmie and Greg and be door-to-door. If my team can continue to execute like they did today I think we've got a real good shot at this championship so I'm very, very proud."
While Keselowski was happy with his finish, he was less sanguine about the performance differences among the cars. At Michigan, Michael Waltrip Racing, Hendrick Motorsports and Roush Fenway Racing all had at least one team car that was faster than Keselowski's Penske Dodge.
"I just think there's big discrepancies in the cars now," said Keselowski. "There's certain parts and pieces on the cars that are making them quite a bit different to where we're seeing different paces throughout the field. I think there's probably half a dozen to a dozen cars that are drastically faster than the rest of the field. That's disrupted the parity, created a lot of side-by-side action that is maybe good, maybe bad, depends on who you are.
"But I think right now in the sport the cars are probably the most separated we've ever seen," he continued. "You've seen qualifying, the pace difference between 20th and pole was over a second (Editor's note: It was actually 0.672 seconds.) We haven't seen that in over 10 years in this sport. I don't think that's necessarily a bad thing, but it's an observation."
Keselowski intimated that some cars were pushing the borderline of legality, where the Penske cars aren't.
"There's parts and pieces on the car that are moving after inspection that make the car more competitive," Keselowski said, without naming specific teams or cars. "Some guys have it, some don't. There's a question to the interpretation of the rule. Penske Racing errs on the safe side because we don't want to be the guys that get the big penalty. Obviously there's a question to the interpretation that as of right now it's legal."
That's not the Penske way, Keselowski insisted.
"I'm sure that Roger (Penske) doesn't want to be the one caught red-handed," said Keselowski. "As a group at Penske Racing, we have not felt comfortable enough to risk that name and reputation that Roger has over those parts and pieces. Others have, which is their prerogative. I'm not going to slam them for it. But it's living in a gray area. Roger doesn't do that."
Tom Jensen is the Editor in Chief of SPEED.com, Senior NASCAR Editor at RACER and a contributing Editor for TruckSeries.com. You can follow him online at twitter.com/tomjensen100.