CUP: Keselowski Keeping Hammer Down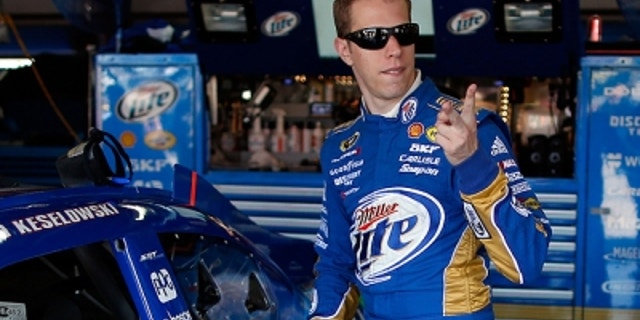 Life's pretty good for Brad Keselowski right now.
In just his third full season in the NASCAR Sprint Cup Series, the 28-year-old Michigan native leads the points by 5 over Jimmie Johnson and he's 16 up on Denny Hamlin. So far, Keselowski has won two of the first three races in the Chase for the Sprint Cup.
On Sunday, Keselowski will line up 22nd in the Good Sam Roadside Assistance 500 at Talladega Superspeedway, the 2.66-mile track where he won his first Cup race in April 2009 and won here again earlier this season.
And as he's done all season — all his career, actually — Keselowski will be going balls-to-the-wall, all-out for another victory, with no guarantee of outcome. While several of his competitors have referred to the Talladega race as a lottery, Keselowski doesn't see it that way.
"You may have less control of your destiny here, but you can still do something dumb and make it worse than it has to be," Keselowski said. "You don't have to drive it into the wall and say that it's luck. And I know that there is the temptation to use that excuse that it's the end all be all of, 'That's Talladega and that's just bad luck.' A lot of times it's not bad luck, it's guys covering their ass with blaming Talladega, too. It's funny how that works sometimes."
The reality of racing at Talladega is that there likely will be at least one large multi-car crash on Sunday, and that several Chase drivers could be affected. Johnson, for example, hasn't finished any of the three restrictor-plate races already run this season, having gotten wrecked twice and losing an engine once.
Depending on what happens Sunday, Keselowski could get caught in The Big One and lose his points lead, or he could have another strong finish and see several of his rivals crash out, which would put him on the driver's seat in the championship race.
"I'm not going to look at it negatively," said Keselowski. "I'm going to look at it positively and think that if I do everything right that there's a chance that I could leave here and have a really big points lead."
One thing for certain is that Keselowski does not lack for confidence. If he did, he probably never would have even gotten here in the first place. And he's taking that mentality into the championship hunt.
"I think that we can go to any of the next seven races, including here at Talladega and win," said Keselowski. "Certainly there are variables that are there that could put us out of it. You can blow a tire, get caught up in a wreck, etc., etc. I don't know. I can't look that far into the future. I feel like we'll be in really great shape if we retain the points lead leaving here at Talladega, that's for sure. It will be a big moment for our team if we can do that. If we're not, I would not be all that concerned."
So the only thing left is to run the race on Sunday.
"Certainly there is no guarantee wherever you go, especially not here at Talladega," said Keselowski. "It's hard to really say much other than go out on the race track and do it and see what happens."
Tom Jensen is the Editor in Chief of SPEED.com, Senior NASCAR Editor at RACER and a contributing Editor for TruckSeries.com. You can follow him online at twitter.com/tomjensen100.