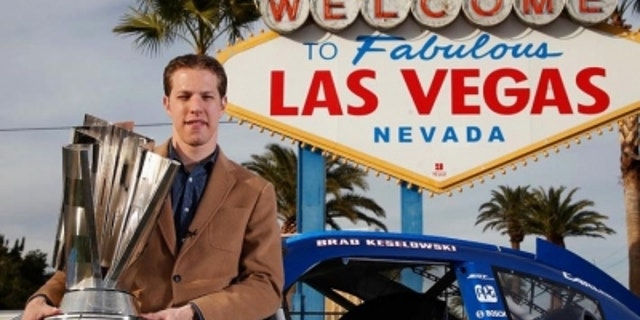 Brad Keselowski's tenure as Sprint Cup champion began Friday night with a Miller Lite toast, the arrival of a golden Goodyear car and the applause of a crowd of about 1,500 at the Wynn hotel/casino.
Keselowski's unlikely championship put long-time team owner Roger Penske at the Sprint Cup Series Awards banquet head table for the first time. He raced in NASCAR circles for the first time in 1972 (although he was absent from the sport for a decade later).
Keselowski, son of a Midwestern racing family and a Cup champion in only his third full-time season in the series, also shared the head table with crew chief Paul Wolfe, a former driver who has formed a potent partnership with the driver of the Miller-sponsored No. 2 car.
Keselowski began the official part of the evening in a tower suite in the Wynn, accepting the solid-gold car Goodyear presents each season to the Sprint Cup champion.
Then he and his party left for the Wynn's massive ballroom, where hundreds of fans, industry insiders, media representatives and a raft of performing talent waited.
The series' top 10 drivers spoke about their seasons, with Keselowski taking the podium last to review a year that earned him five victories, a championship by 39 points over second-place Clint Bowyer and status as a contender for many years to come.
Finishing second through 10thin the standings were Bowyer, Jimmie Johnson, Kasey Kahne, Greg Biffle, Denny Hamlin, Matt Kenseth, Kevin Harvick, Tony Stewart and Jeff Gordon.
The banquet was the final official event of a long week of Vegas celebrations for Keselowski and his team. They and their invited guests were expected to party deep into the Vegas night at Surrender, a club at the adjacent Encore hotel/casino.