CUP: Keselowski Happiest Out Front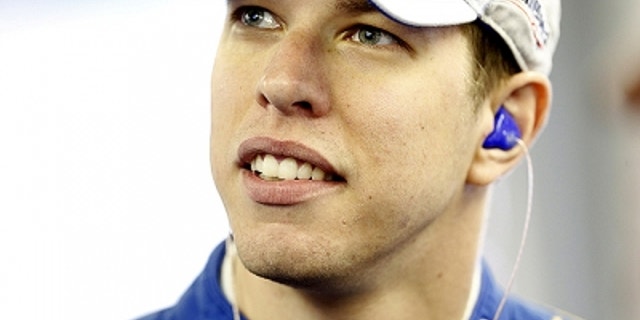 Remember the old saw about how if you're not the lead dog, the view never changes?
Brad Keselowski does. And he darn sure would rather be the lead dog, especially now, with the Chase for the Sprint Cup starting to heat up.
This year's Chase marks the first time in his still-young NASCAR Sprint Cup career that the 28-year-old Michigan native has led the points and, so far, he's really enjoyed the view from up front.
Keselowski took his first points lead after winning the opening race of the Chase at Chicagoland Speedway three weeks ago and recaptured it with a win at Dover International Speedway on Sunday.
And while some might believe that leading the points carries an added measure of pressure, Keselowski loves being the lead dog.
"I don't know why you wouldn't want to be leading," Keselowski said during an appearance Tuesday at Charlotte Motor Speedway. "I don't understand that theory at all. If you have a chance to be in the lead, take it and run. … If you can be in the lead, be in the lead. Why would you not want to be? I feel really good about our position, but I know there's a lot of fight left."
One of the keys to Keselowski's success is that he and Penske Racing crew chief Paul Wolfe race aggressively. While every driver wants to win on Sunday, it's tempting at this time of year to be conservative and not risk a bad finish that could have devastating effects on a run for the championship.
But that's not the mindset Keselowski and his team have.
"If you look at races that we've won, whether it's with strategy or moves on the race track, those are very aggressive moves," Keselowski said.
What's been most impressive, though, has been the consistent finishes Keselowski has posted his No. 2 Penske Dodge.
Over the last 13 races, Keselowski has three victories, two runner-up finishes, eight top fives and 12 finishes of eighth or better. That's an average finish of 6.08. Throw out his 30th-place finish at Bristol Motor Speedway and his average finish in the other 12 races has been 4.08.
If Keselowski can keep that up for another seven races, he will be awfully tough to beat. How has he managed it so far? By driver and team being strong across the board.
"There isn't one silver bullet," Keselowski said. "It's everything. The cars are good, the execution on pit road has been strong. Knock on wood, we haven't had failures, which is a credit to the staff at Penske Racing, from a reliability standpoint. And, with the exception of Bristol, I haven't drove it into the wall.
"That's what it takes, right now, in the sport to be successful. It takes that combination. And just having one of those pieces is not enough. You have to have 'em all. In fact, just missing one of those pieces will keep you from having a solid day."
Of course, none of what's happened so far is any guarantee.
Jimmie Johnson, the five-time champion, is just five points behind Keselowski with seven races left in the season, a razor-slim margin. Third-place Denny Hamlin is just 16 points out of the lead and has been fast enough that he could have won all three races in the Chase so far. And fourth-place Clint Bowyer is the two-time defending winner at Talladega Superspeedway, where the Sprint Cup Series races on Sunday.
"I'm sure they're back home, working really hard right now," said Keselowski of Johnson and his all-conquering No. 48 Hendrick Motorsports team. "And so are we. And we're going to keep exchanging blows."
Which is why the final seven weeks of the season are shaping up to be so fascinating.
Tom Jensen is the Editor in Chief of SPEED.com, Senior NASCAR Editor at RACER and a contributing Editor for TruckSeries.com. You can follow him online at twitter.com/tomjensen100.