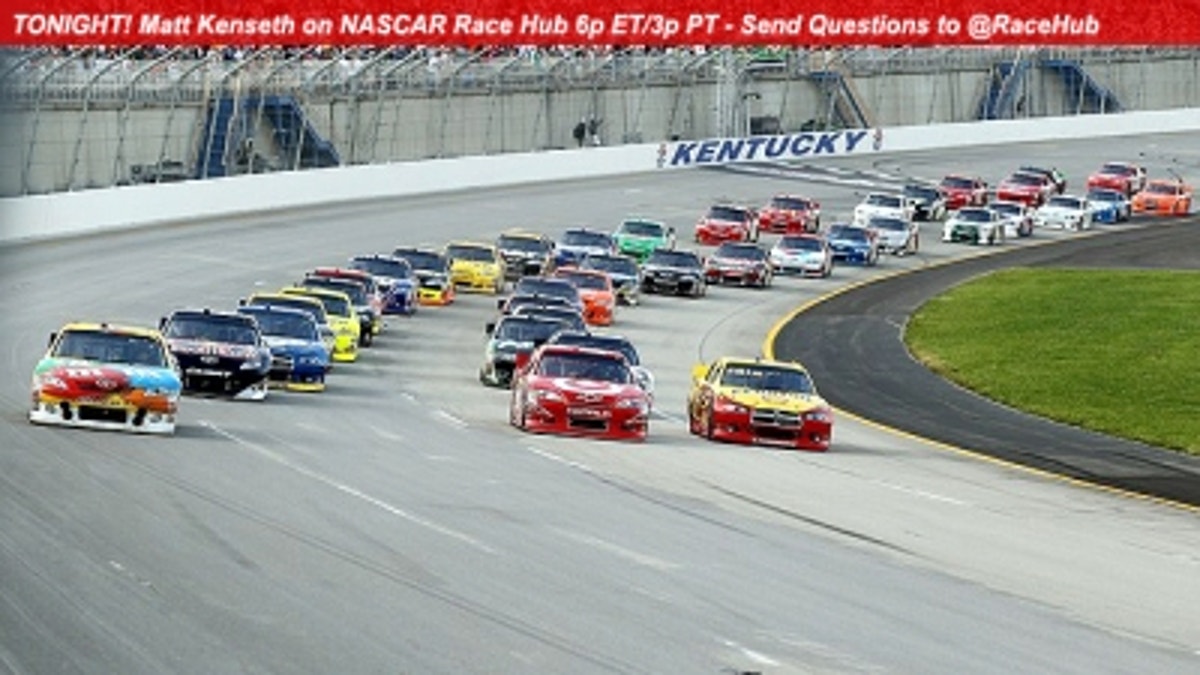 Kentucky Speedway doesn't fit well into the "cookie cutter" category that some 1.5-mile tracks conveniently fall into.
"My first laps there from the test session last year when we went, I felt like the bumps were going to make the car lose grip and spin out and be out of control, but there is so much grip there that even with as rough and as bumpy as it is, you stand on the gas and carry a ton of speed and just bounce around," said Jimmie Johnson. "Those are the things I had to overcome when I got on the track last year.
It's the roughest and fastest track we go to; well, Atlanta is fast, but there are big swells, and I still don't feel like we're driving as hard at Atlanta as we are at Kentucky.
"Kentucky, you're driving it like a freshly repaved track. You have high frequency bumps and banking doing weird things. It's a fun track for those reasons, and it has a lot of character to it."
That character is likely to be enhanced in the second annual Quaker State 400 Saturday night. Teams will be competing under a new set of aerodynamic rules designed to boost side-by-side racing. Side skirts on Cup cars have been shortened.
Throw in that new variable with Kentucky's bumps and relatively high speeds, and the mix could get interesting.
"Kentucky is kind of wide, but it's difficult to pass," said Dale Earnhardt Jr. "The second groove has some good grip, so it will be real hard to get underneath guys and get around them. It's got a lot of bumps, too. I don't mind the bumps that bad. They definitely add a new dimension in the corners."

Tony Stewart said negotiating the bumps is tricky.
"I guess the biggest thing about it is for those of us who haven't run Nationwide or Truck races there, we still only have one race at that track," he said. "So, we're still figuring it out. It's got a lot of bumps, so that makes it very challenging.
"Trying to figure out exactly where to be, where to try to get around some of the bumps, how to get through them better, how to get the car to go through them better – those are challenges that kind of make it fun, because it's not just flat and easy to get around."
Penske Racing driver Brad Keselowski said the track's bumps define much of the action.
"If you can get your car where it's comfortable over the bumps in turns one and two, that's obviously going to be the fast way around Kentucky," he said. "Sometimes, that is easier said than done, so some drivers will choose to enter a bit higher to avoid the bumps.
"Usually, that will establish a second groove around the middle of the race, which can lead to some great side-by-side racing over the final laps. It's definitely a place with a lot of character, despite the fact that it looks like a lot of the other intermediate tracks that we visit."
Mike Hembree is NASCAR Editor for SPEED.com and has been covering motorsports for 30 years. He is a six-time winner of the National Motorsports Press Association Writer of the Year Award.