CUP: Kenseth Wins Shocker At Talladega.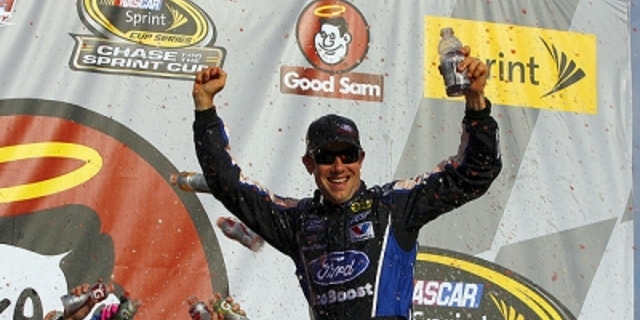 Matt Kenseth captured the Good Sam Roadside Assistance 500 at Talladega Superspeedway after at least 20 cars crashed on the final lap in a violent, brutal and costly end to what up until then had been a clean race.
After the white flag came out Michael Waltrip ran into leader Tony Stewart, who was on the bottom lane, sending Stewart's car back into the back and then upside down as chaos erupted on the track.
NASCAR's preliminary finishing order — which could be revised — had Kenseth first in his Roush Fenway Racing Ford, followed by Jeff Gordon, Kyle Busch, David Ragan and Greg Biffle.
"I remember when coming to Talladega was fun," said Gordon, who finished second for the fourth time in six races. "And I haven't experienced that in a long, long time."
The second five was Regan Smith, Brad Keselowski, Travis Kvapil, Ryan Newman and Jeff Burton.
Keselowski was the big winner, as Jimmie Johnson finished 17th and Denny Hamlin 11th. With four of 10 races down in the Chase for the Sprint Cup, Keselowski unofficially leads the points standings by 15 over Johnson and 20 over Hamlin.
Kasey Kahne started from the pole and led at the start, followed by Clint Bowyer, winner of the last two fall Talladega races.
On Lap 17, Casey Mears turned Cole Whitt into the wall, bringing out the day's first caution and snaring Carl Edwards and Joey Logano as well.
That was the only yellow in the first half of the race, when the most significant incident occurred during green-flag pit stops that began around Lap 60. Dale Earnhardt Jr., who led early, went a lap down due to a pit-road speeding penalty on Lap 62. Also getting flagged early were Kyle Busch and Trevor Bayne.
On Lap 99 Kurt Busch was leading when he got turned around by Jamie McMurray, as the elder Busch brother ran out of gas. But when a safety crew approached Busch, he drove away without his helmet on and NASCAR parked him for the remainder of the race, an ugly end to his ugly tenure with Phoenix Racing.
Meanwhile, the track featured numerous lead changes, which is the norm at Talladega. McMurray showed speed throughout, as did the Roush Fenway Racing Fords of Greg Biffle and Matt Kenseth.
Earnhardt got back on the lead lap just before a caution came out on Lap 140, with Kyle Busch getting the Lucky Dog.
As the race went on, the competition became more and more intense, with the packs going three- and sometimes four-wide. There were numerous near wrecks during the race, with Kenseth and Biffle both getting turned sideways and driven down to the apron but making miraculous saves. Jeff Gordon got knocked out of shape by Earnhardt in the closing 15 laps, but Gordon saved it, too.
On Lap 184 of the scheduled 188 laps, McMurray got turned around in the tri-oval by Kevin Harvick, bringing out a caution flag.
Under caution, about half of the lead-lap cars came in for a splash of fuel. Mears and Biffle had contact on pit road, losing critical track position.
Kenseth broke into the lead on the restart, but Stewart passed him going into the last lap. But then all hell broke lose, the field piled up and Kenseth was declared the winner.
Tom Jensen is the Editor in Chief of SPEED.com, Senior NASCAR Editor at RACER and a contributing Editor for TruckSeries.com. You can follow him online at twitter.com/tomjensen100.