CUP: Kenseth Rallies, Wins Southern 500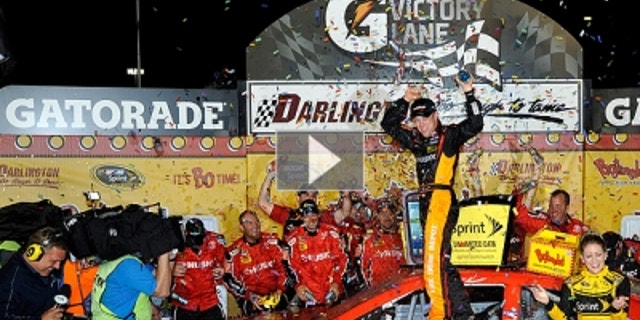 On a warm spring night at Darlington Raceway, NASCAR's oldest, grumpiest track, the evening was almost as placid as a picnic by the lake.
For one night, at least, this wasn't the track Too Tough To Tame, as its nickname boasts.
At a narrow, fast track that typically mass-produces cautions – there were 17 here four years ago, Saturday night's Bojangles' Southern 500 was remarkably calm for most of its distance.
And it held another surprise. After Kyle Busch dominated most of the race, Matt Kenseth – he of the interim crew chief – sprinted forward with 13 laps to go and pushed in front to win the race, his third victory of the season. It was Kenseth's first Sprint Cup victory at Darlington, and, joining his team to celebrate, he called it "a dream come true."
The victory was scored with Wally Brown filling the crew-chief role for Kenseth, thanks to crew chief Jason Ratcliff being suspended by NASCAR.
There were only five caution flags, and most of the field's pretenders were lapped very early in the race. Kenseth won with a record average speed of 141.386 mph.
One hundred and 24 laps were logged before the first caution, allowing the leaders to put more than half the field at least one lap down.
Kurt Busch, who set a record in leading qualifying Friday, set sail at the start of the race, leading the first 51 laps. But Kurt eventually lost the handle on his car, and younger brother Kyle took command, quickly cementing his hold on first place. He led 187 of the race's first 276 laps. At that point, only the two Busch brothers, Jeff Gordon and Matt Kenseth had led laps.
The race's second caution flew on lap 303 when a flat tire sent Regan Smith into a slide in turn two. Kyle Busch led at that point, and he was in and out of the pits first to stay in front.
A few laps after the green, Casey Mears brought out the third caution by slamming into the wall in heavy traffic on the frontstretch. Paul Menard, Kurt Busch and Brad Keselowski also were involved in the incident.
With 39 laps to go, Josh Wise and David Reutimann crashed in turn one, causing the fourth caution. All the leaders pitted again, and Busch again roared off pit road first. Jimmie Johnson dropped five spots to eighth on pit road.
Kasey Kahne decided to challenge Busch on the restart, and trouble followed. They raced side by side into turn one, and Kahne slid into the outside wall, sparking another caution.
Kyle Busch appeared to have the race in hand, but his handling went away in the final miles as a tire began going down, leaving the door open for Kenseth.
Denny Hamlin, returning to full-time racing for the first time since a back injury, finished second, followed by Jeff Gordon, Jimmie Johnson and Kevin Harvick. Kyle Busch fell to sixth.
Gordon scored the 300th top-five finish of his career in his 700th start. Only David Pearson, Bobby Allison, Richard Petty and Gordon have 300 top-five runs.
Mike Hembree is NASCAR Editor for SPEED.com and has been covering motorsports for 31 years. He is a six-time winner of the National Motorsports Press Association Writer of the Year Award.