CUP: Kenseth Penalty Can Be Overcome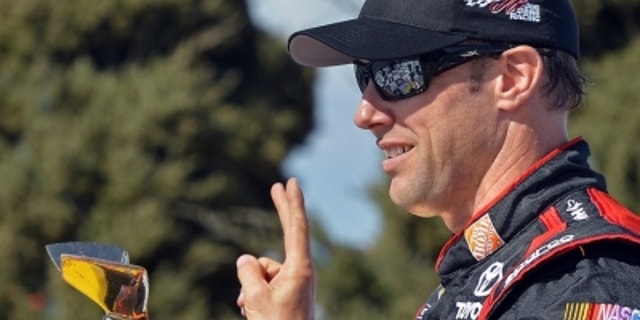 When NASCAR announced Wednesday that Matt Kenseth would be fined 50 points for an illegal engine at Kansas Speedway last weekend, and that his crew chief Jason Ratcliff would be fined $200,000 and suspended six races, it sent shock waves through the NASCAR community.
It seemed as though NASCAR had thrown the book at Joe Gibbs Racing for a comparatively minor infraction — one connecting rod in the motor of Kenseth's car being less than 1 percent lighter than the specified minimum weight.
At first blush, it appears NASCAR has cracked down in a huge fashion.
In reality, though, the penalty could wind up being virtually wiped out.
The 50-point penalty knocked Kenseth from eighth to a tie for 14th in points with Jeff Gordon. Right now, Kenseth is 38 points out of the top 10 with eight races complete on the 2013 NASCAR Sprint Cup season.
If over the next 18 races, Kenseth can work his way back into the top 10 points, that 50-point penalty will become a 3-point penalty.
That's because after the 26th race of the season, NASCAR resets the point totals of the top 10 drivers to 2,000 points each, plus each driver gets 3 points per race victory. If Kenseth does get back in the top 10, he will lose the 3 bonus points he got for winning in Kansas, but the 50-point penalty will be moot, because the points are reset for the top 10 drivers anyway.
It's not a guarantee that Kenseth will make it into the top 10, but there's a strong chance he will.
And if he doesn't make it into the top 10, he still has a great chance to finish in the top 20 points and get one of the two wild-card slots, meaning he'd start the Chase for the Sprint Cup with 2,000 points — the wild cards get no bonus points.
Either way, he is still in great position to make a championship run, especially given that JGR has won four of the eight races run this season, with Kenseth victorious twice.
So while the penalties may seem extreme at first blush, they are not the kind of thing that should derail Kenseth's season.
Tom Jensen is the Editor in Chief of SPEED.com, Senior NASCAR Editor at RACER and a contributing Editor for TruckSeries.com. You can follow him online at twitter.com/tomjensen100.