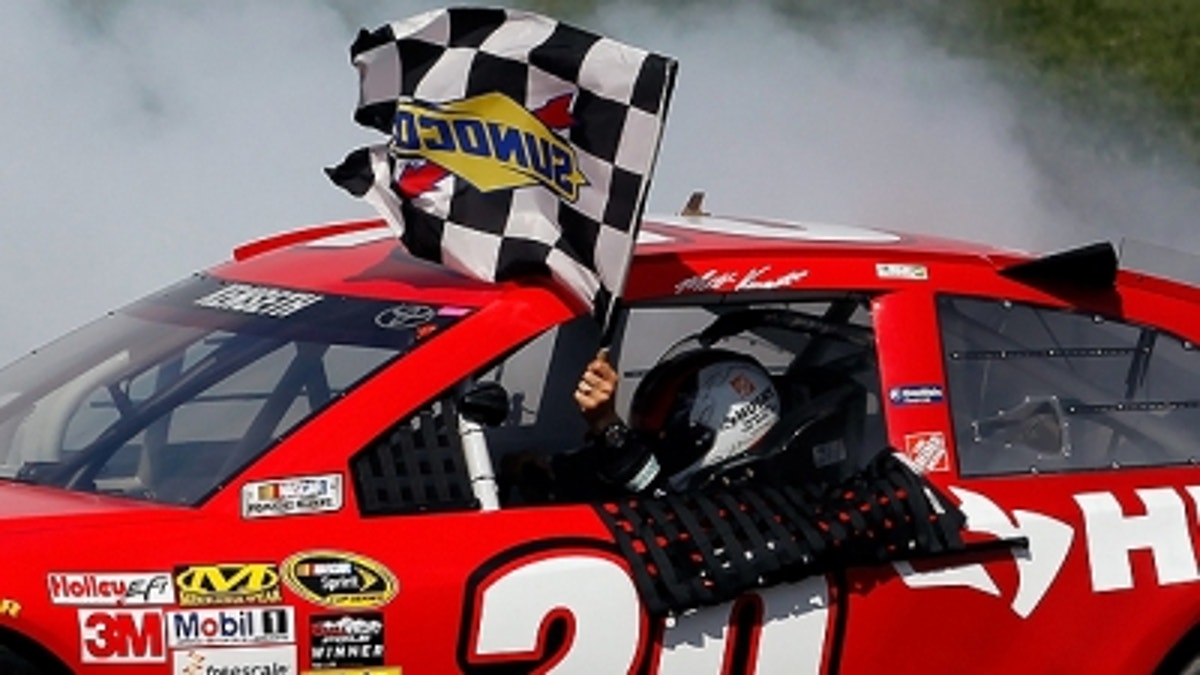 For those who wondered if Joe Gibbs and Matt Kenseth might have made the wrong moves when Kenseth left a solid situation at Roush Fenway Racing to jump to Joe Gibbs Racing – stop.
Kenseth provided more proof Sunday that his Roush-to-Gibbs switch was the free-agent move of the season as he put on a driving clinic at Kansas Speedway, winning the STP 400 with relative ease.
Consider: Despite the potential handicaps of racing with a new team, a new crew chief and a new car, Kenseth has two victories, sits eighth in points and has run well at a variety of tracks.
This deal might work out.
It might turn into a championship, one that would be Kenseth's first since 2003.
"We feel like we've run up front a lot this season, and we've had some finishes that I'm not going to say [were] disappointing, but we felt like we've – we haven't finished where we've been capable of finishing," crew chief Jason Ratcliff said. "To come out of here in the top 10 solid, not too far behind the leader with two wins under our belt at this point in the season, is obviously very gratifying."
Kenseth was effusive about the opportunity to drive for Gibbs. He left a good situation for a better one.
RESULTS STP 400 Race
Points After STP 400
"I mean, honestly, the reasons were countless," he said. "I'm not going to get into them all, but it was just – I just knew it was the right place for me with the right group at the right time and all that stuff. Honestly, I just knew there wasn't any doubt. I just knew that that was where I needed to be and where I felt like I had the best chance to be the most successful."
He again described the move as a no-brainer, saying he discussed its ramifications only with his wife, Katie.
"I didn't talk to anybody about it except for Katie," Kenseth said. "Katie and I talked about it. She would never tell me what to do, necessarily pick for my profession. She would let me do that. But certainly she had a positive feeling about it, as well.
PHOTOS
Kansas Race
Kenseth Wins
"I didn't really tell anybody else about it. I really didn't need to. It wasn't really a hard decision, believe it or not."
Kenseth's Kansas numbers were overwhelming. He won the pole with a record speed (despite carrying a reputation as a poor qualifier), led 163 of 267 laps and wasn't seriously challenged while leading the final 52.
Mike Hembree is NASCAR Editor for SPEED.com and has been covering motorsports for 31 years. He is a six-time winner of the National Motorsports Press Association Writer of the Year Award.