CUP: Kansas Tough On Kyle Busch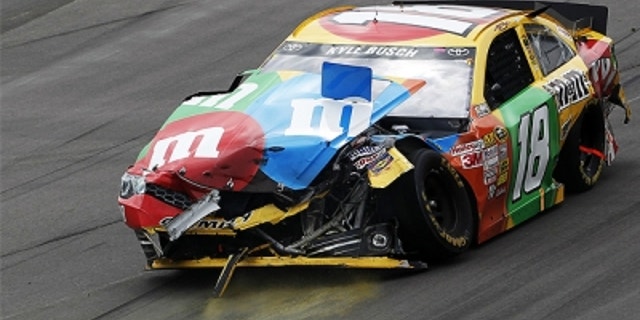 Despite qualifying fifth, Kyle Busch never got a grip at Kansas Speedway on Sunday.
In the first five laps, Busch spun on the backstretch. After a pit stop, Busch came back through the field and was 29th by the time the second caution fell on Lap 39. But 65 laps later, Busch completely lost control of his car in Turn 4 and, as he came off the wall, he collected Joey Logano in the process.
"Spun twice on our own," Busch said. "Just don't know what to do with Kansas."
Busch, who won last week at Texas Motor Speedway and vaulted to second in the point standings following penalties to Brad Keselowski and the No. 2 Penske Racing crew, finished 38th. Although last week's win was also on the a 1.5-mile track, he's never acclimated to Kansas. In 12 starts, Busch has only posted two top 10 finishes. After the track was resurfaced last summer, the new asphalt coupled with the tail wind on the back stretch made for difficult driving conditions.
"Yeah, absolutely no grip for me anyways," Busch added. "But, you know, you're running third and doing fine, car a little tight and you spin out. I don't know what to do with that and then we're back in traffic all day. Traffic is way worse. Just trying to get back up to the front and making some gains, but car just snaps out from you every corner."
Busch dropped to seventh in the point standings. He trails leader Jimmie Johnson by 54 points.
Although Logano watched Busch spin out in front of him, he expected the No. 18 to come across the race track. Logano didn't have time to correct.
"I saw he got loose and thought, 'OK, he's gonna come back across,' and he didn't," Logano said. "It looked like he was gonna stay up there because he kind of slapped the wall with the right side after he hit it the first time, so I'm like, 'All right, I'm gonna gun it and get by him here.' And as soon as I committed to that I saw him start coming back down. At that point you're just lined up to him and hit him a ton.
"I'm fine. It's just unfortunate for the AAA guys. They deserve better than that. We were working hard on getting our car better. We weren't gonna gain many points this weekend, but we were gonna try to rally for the best possible finish we could get out of it, but it's not good for us."
Logano finished 39th — his worst result of the season — and fell from ninth to 20th in the point standings. He trails Johnson by 124.