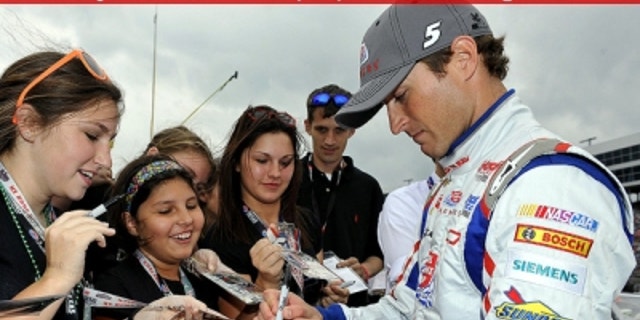 NEWYou can now listen to Fox News articles!
Kasey Kahne, whose season has not gone as planned – to say the least, picked up some significant "oomph" last weekend.
Kahne finished third in Friday night's Nationwide Series race at Texas Motor Speedway, then was seventh in Saturday's Sprint Cup race – easily his best Cup run of the season.
But Kahne wasn't done. He hopped a plane to the Carolinas, showed up for Sunday's inaugural Camping World Truck Series race at Rockingham Speedway and dominated the second half of the race to score his fourth career Truck victory.
Considering the sense of malaise that has hung over Kahne's Sprint Cup season, the weekend was like a homecoming, birthday party and Christmas rolled into one.
"This is probably the best weekend I've had in a long time," Kahne said after the Sunday Truck win. "I got out of that truck and I've got three clean race cars and I ran three hard races this weekend, and everything's clean – not a dent on them.
"It was a good weekend, tons of energy, and I'll sleep good tonight when I finally decide to go to bed."
The Texas Cup finish gave Kahne a little sunshine in the point standings, boosting him four spots to 27th after seven races.
He will be shooting for victory No. 1 of the season Sunday at Kansas Speedway. He's started strong almost every week – he has six straight top-10 qualifying runs, but his race results have been plagued by crashes and problems.
"We fought through Texas as a team," Kahne said. "The guys gave me great pit stops, even though we were making big adjustments each time. Kenny (Francis, crew chief) worked with me to improve the car all night. It wasn't the fastest we've been this year, but I'm really proud of the whole team for putting together a solid finish."
It was Kahne's first top-10 finish of the season.
Kahne said he hopes to repeat – although one spot better – his fine run at Kansas Speedway last fall. He finished second to winner Jimmie Johnson.
"We got a great finish last fall at Kansas, so I'm excited to go back there," he said. "We're at our best on the mile-and-a-half tracks. I think our team will come in with a lot of momentum from Texas. We're learning every week, and that's going to start showing on the race track."
Kahne has never won at Kansas, but seven of his 12 career victories have been scored on intermediate tracks.
Mike Hembree is NASCAR Editor for SPEED.com and has been covering motorsports for 30 years. He is a six-time winner of the National Motorsports Press Association Writer of the Year Award.