CUP: Kahne Voices Displeasure With Kyle Busch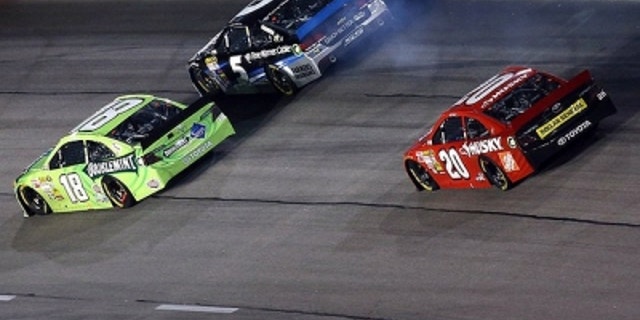 The feud brewing between Kasey Kahne and Kyle Busch came to a head at Darlington Raceway on Saturday night.
What started in the Daytona 500 and continued last week at Talladega Superspeedway escalated on the penultimate restart in the NASCAR Sprint Cup Southern 500. That's when Kahne got a run on Busch and battled him for the lead down the straightaway.
When the drivers entered turns 1 and 2 on Lap 333, Kahne stalled when Busch took the air off his car and Kahne's No. 5 Chevy ended up in the wall.
Kahne exclaimed: "Shut off. It just shut off."
Crew chief Kenny Francis told Kahne to check the different power sources as the driver gathered up the car and brought it to pit road.
While the replays did not show contact between Busch and Kahne, his spotter Kevin Hamlin assessed the incident differently.
"Let's stay calm here," Hamlin said. "But we owe that (expletive) three."
Busch's crew chief Dave Rogers did his best to reel in his driver.
"There's not a scratch on that car," Rogers said. "If you touched him, it was very light. All you have to worry about is what's in front of that race car."
Although Kahne's crew was able to keep him on the lead lap, he dropped from second to 16th for the final restart. With 30 laps remaining in the race, Kahne managed to finish 17th.
"Well, he needs to quit," Kahne said. "I mean, he's got to just race me. I mean, I've never touched the guy in my life as far as on the racetrack. Three times this year, there have been other times in other years. I don't really know what his deal is with me. He blew that entry into (Turn) 1. I got to the outside. I got by him into (Turn) 3. We had a great restart. We kept getting our car better.
"The guys did an awesome job. ... Whether he touched me ... I mean it was very close whatever it was. The angle he took into the corner, he had no steer and just went straight. Then I went spinning. It was definitely a tough way to end our race. We had just got to the point where I could move off the bottom. I could move up higher because we had been so loose and I felt really good."
Busch was unavailable for comment after the race. However, Rogers said that Busch was "pretty tore up" over the incident.
"They were racing hard and Kahne tore up another car," Rogers said. "This is the third time we've been involved in an incident with Kasey, and all of us over here have a ton of respect for that program. Kyle thinks the world of Kasey, and I think that Kenny Francis is a great guy. Kyle still has a ton of friends on the 5 car. He used to drive that car. He certainly doesn't want to create more work for those guys.
"He was just really somber and disappointed that it happened, but unfortunately, it's part of this sport."
Kahne actually moved up to sixth in the points standings, while Busch vaulted from 10th to eighth.