CUP: Kahne Strong But Couldn't Catch Kenseth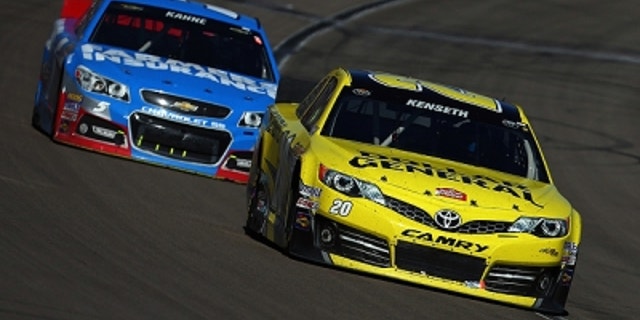 Kasey Kahne had the better car and the newer tires. But Matt Kenseth had the position.
And that was the story of the race for Kahne Sunday in the Kobalt Tools 400 at Las Vegas Motor Speedway. He chased Kenseth and tried every avenue to make the winning pass over the closing miles but couldn't close the gap.
Results: Kobalt Tools 400
"I felt like I could have gotten there," Kahne said. "I could turn down in the center of the corner and carry a ton of speed doing it. I felt confident I could do it when I got to him, but when I got to Matt I couldn't do it.
"I tried it all – lifting early and lifting late. He did a really good job keeping his momentum and speed up. He put up a great battle and pulled it off on old tires – a good job."
Kahne had the day's best car. He led 114 laps in six different stretches.
But Kenseth went with a fuel-only stop on the last round of pit stops, while Kahne took tires. That gave Kenseth the edge and the momentum rolling into the closing segment of the race.
"I think Matt would have beaten us out anyway," Kahne said. "After that stop, I couldn't turn down the track like before. It got greasy out there.
"I drove so hard every single lap. It was a lot of fun. I had the car to beat today, and we lost, but it was still a great race for all our guys."
Kahne said the Gen-6 car performed well.
"I felt like I could pass and race underneath cars," he said. "I could do things maybe I wouldn't have been able to do in the past. I had a lot of fun driving it. I got to race through cars and traffic and battle for the lead five or six times. I felt really confident with it."
Kahne jumped 17 spots in the point standings to 14th.
Mike Hembree is NASCAR Editor for SPEED.com and has been covering motorsports for 31 years. He is a six-time winner of the National Motorsports Press Association Writer of the Year Award.