CUP: Kahne Finds Groove With Hendrick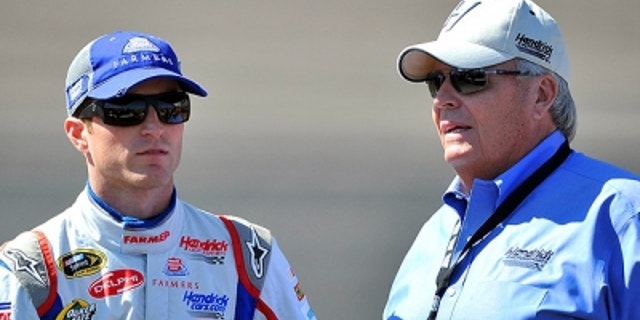 Kasey Kahne has found his happy place — at Hendrick Motorsports.
After eight tumultuous seasons in NASCAR's Sprint Cup Series, Kahne, 32, has found stability behind the wheel of the No. 5 Chevrolet.
Before the season began, the pairing of Kahne and the Hendrick juggernaut had pundits predicting that this team would be Chase-bound. Heck, some believed with the nucleus of Kahne's coaching staff intact (crew chief Kenny Francis and race engineer Keith Rodden accompanied the driver to Hendrick), this could be his year to sit at NASCAR's championship table in Las Vegas.
However, after a challenging Speedweeks at Daytona, followed by a rash of wrecks and mechanical failures, Kahne and his crew have had to battle back after a season low of 32nd in the point standings to 12th following his second win of the season two weeks ago at New Hampshire. And with his second victory, Kahne jumped to the top of the wild-card standings.
Afterward, instead of jetting off to a well-deserved retreat or strapping into a race car, Kahne simply rested and "hung out" with family and friends at home in North Carolina.
"I raced (sprint cars) two nights before New Hampshire," Kahne said. "I was planning on racing last week, but decided to stay home and do my own thing. I'm glad I did. I had a good week. I just relaxed. It turned out to be really good."
Kahne appeared completely relaxed sitting outside of his motorcoach in the Indianapolis Motor Speedway infield. He's always been the most comfortable — and successful — in drama-free environments.
With the resources of Hendrick Motorsports, Kahne never has to worry about owners gone wild or the caliber of his equipment. Kahne isn't blown away by the depth of HMS as much as he is the company's ability to stay at the forefront of trends and technology.
"Things are always changing in NASCAR," Kahne said. "Even when you have all those resources, and I'm so happy to be a part of that, things are always changing and you have to stay on top of that. One team will hit on something and gain an advantage — for a while.
"But with all the people at Hendrick Motorsports, they're constantly working on making the cars better. They might get behind, but they won't stay there for long. And I've seen that happen with them throughout my career."
His transition with new sponsor Farmer's Insurance — which earned an estimated $43 million in brand exposure for the first half of the season, according to a recent Joyce Julius & Associates report, and was top in its category — has been flawless despite Kahne's previous association with Allstate. Kahne was also ranked fourth among all drivers for exposure value ($33 million) behind Jimmie Johnson, Dale Earnhardt Jr. and Tony Stewart.
No doubt, the relationship has been a win-win for both parties.
"It's great for myself to have a sponsor like Farmer's. I can't believe how good they've been to me in a short period of time," Kahne said. "Then to be in the 5 — and with Hendrick Motorsports behind it — it's been a great partnership."
Away from the pressures of NASCAR, Kahne's "passion" is winged sprint cars. He currently owns three teams with drivers Joey Saldana, Brad Sweet and Cody Darrah. He's not sure if that style of car is the best stepping stone to NASCAR, but it worked for him.
"That's what I enjoyed the most when I raced — one of the things I enjoyed the most — I liked about everything I ever raced," Kahne said. "I liked the winged-sprint cars. I enjoy having those teams. It's just depends how people adapt — how that goes. If they do the dirt, then figure out the pavement, especially in our cars — they're so much heavier and bigger — it's a huge transition.
"It's tough to go that route, but it's the route some of us have taken and it's worked."
No doubt the lessons in car control have served Kahne well. How else could he have put himself 66 points outside of the Chase Zone with just seven races left in the regular season?
And should Kahne qualify for the Chase, he will give the competition a run for their money. Last season — as a lame duck with Red Bull Racing — Kahne amassed the most points of any non-Chase driver in the final 10 races.
"We wanted to be as prepared as possible when we got to HMS," Kahne said of the feat. "We wanted to bring some things to the table and not just use everything those guys were using. We wanted to race hard. We wanted to finish the season as good as I could. Our cars were so nice. We should have been racing up front more this season. I'm surprised we haven't been this season, but things just worked out that way.
"But those final 10, we were probably the third-best car — and sometimes the best car. I feel good about those 10 races and hope to attack them in the 5 in a similar fashion."
Still, Kahne must tackle the Brickyard 400 — one of the most coveted trophies in NASCAR. In eight starts, Kahne has two top-five and four top-10 finishes on the 2.5-mile oval. But in his current situation and the momentum he has coming off the win at New Hampshire, Kahne could be kissing the bricks on Sunday. And a third win could punch Kahne's ticket to the Chase.
"I think it helps to be confident and happy," Kahne said. "If you're confident and happy you're going to make the right decisions. And right now, knowing the speed that we have in our cars, how well my teammates are running and with two wins already, I feel pretty good about it."
CLOSE TO HOME
This weekend, Furniture Row Racing will dedicate the No. 78 Chevrolet to the victims of the July 20 tragedy in Aurora, Colo.
The Denver-based race team is located just seven miles from the movie theater where the shootings occurred.
Regan Smith's car will feature a special design on the hood with a logo from the Colorado state flag, the names of the 12 lives lost on the rear quarter panels and a rear bumper caption: For Those Lost, Those Injured And Countless Acts of Bravery 7/20/12.
"Our hearts go out to the victims and to their families," said Furniture Row Racing general manager Joe Garone. "It really hits close to home for us here in Colorado. … We mourn the loss of life from this senseless tragedy, and feel we also need to stand up and acknowledge the heroism of those people who put their lives on the line to save others.
"Our thoughts this weekend will be with all the people who suffered from this horrific act of violence."
NUMBERS GAME
9: Consecutive races won by Chevrolet at the Brickyard
7: Races won between Jeff Gordon (4) and Jimmie Johnson (3) at IMS
3: Different Richard Childress drivers (Dale Earnhardt, Kevin Harvick and Paul Menard) have won the Brickyard 400.
SAY WHAT?
Juan Pablo Montoya is the first driver to race in NASCAR, IndyCar, Formula One and GRAND-AM at Indianapolis Motor Speedway. Montoya reminisced about winning the Indy 500 from the front row in 2000.
"It's exciting," Montoya said. "It's kind of funny how Indy started for me. We were running the CART Series and Chip tells me he wanted to come here and do the 500. At the beginning of the year, I was a little bit against it because it was outside of the championship. I wanted to stay focused on the CART season. And we did it, and it was great. You look back at it and that was the highlight of that year. It's one of the highlights of my career. So I think it was great that we did. I've been lucky enough to run here. This place is one of the biggest names of racetracks in the world. This is one of the places you want to race and be a part of and I've been lucky enough to be in every series."
Team owner Chip Ganassi felt the need to correct his driver: "No plans to have him in the GP (Grand Prix) bikes in August."