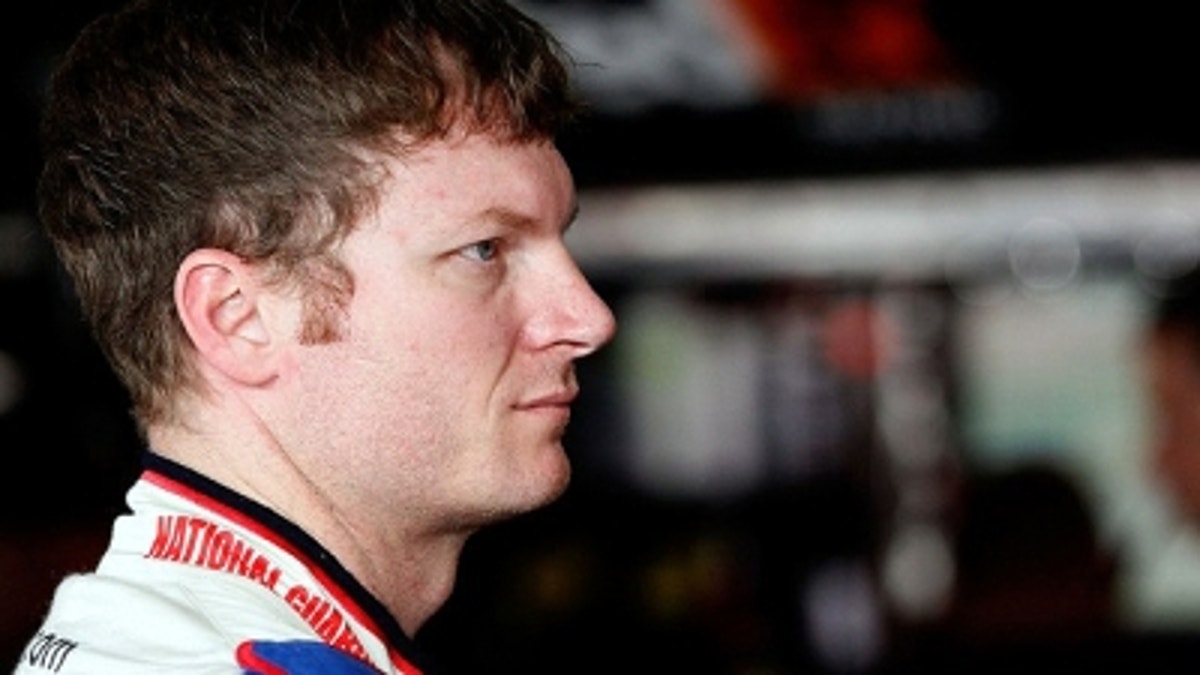 For Dale Earnhardt Jr., the "old" days at Talladega Superspeedway are about the summers of his childhood, when he and his pals would roam the track's infield and garage in July's Alabama heat – yes, they used to race in July – and do what kids with endless summers did.
Which was mostly whatever they wanted to do. If they were lucky, a driver would let them wax his race car, or they could deliver a part from here to there, or they could sweep up discarded spark plugs and save them for teams that might be lacking.
Those were the days before Junior took on the considerable pressures of the family name at Talladega. Before millions of fans expected – no, virtually demanded – that he win every race here. Before he became DALE EARNHARDT JUNIOR.
On Sunday, in another 500-mile chase at NASCAR's biggest track, he will once more be among the favorites, even though he hasn't won here since 2004.
"When we go to Talladega or Daytona, I do feel that those races give us a good chance," he said Saturday. "I feel like we have a good chance of winning every time I go because there are less variables. The cars don't handle. You just hold it on the mat. You just have to make good decisions.
"I feel like I'm in the best equipment that's out there, and that gives you a lot of confidence. I feel like I know what I'm doing when I come here. If I could create the best scenario, this is it."
The return of pack drafting at Talladega – and the demise (mostly) of tandem drafting – gives Junior a boost.
"When we started tandem racing, I really didn't understand that and didn't want to do it and accept it and try to learn how to do it as quickly as some," Earnhardt Jr. said. "I sort of wished it away, and it wasn't going away."
But, generally, it has, although the two-by-two drafting could be a significant factor at the end of the race.
As it was in the past here, winning Sunday will mainly be about picking the right lines and the right partners and being smart at the end. Even then, the best guys don't always win.
"The cars are so equal, and somebody can get the right push and a couple of guys could do the right thing at the right time and win the race, and there's nothing you can do about it," Earnhardt Jr. said. "It's a lottery, really. When you come to Daytona and Talladega trying to win these races, it's a bit of a lottery."
Junior hasn't won since 2008 – 138 straight races. The sense in the garage is that he's almost certain to break that streak – and very soon.
"We're having a good year," Earnhardt Jr. said. "We're trying to concentrate on our momentum and our confidence and the team's true ability and try to go to the track and unload good cars. This probably is one of our better shots [to win] as far as how the drafting has changed. That suits me better. As hot as it is, I think that leans toward us with the pack racing and not the tandem racing.
"But I don't think my odds have increased because of how well we've run this year. We'll just have to see how things go."
Mike Hembree is NASCAR Editor for SPEED.com and has been covering motorsports for 30 years. He is a six-time winner of the National Motorsports Press Association Writer of the Year Award.