CUP: Junior Weighs In On Danica, Stenhouse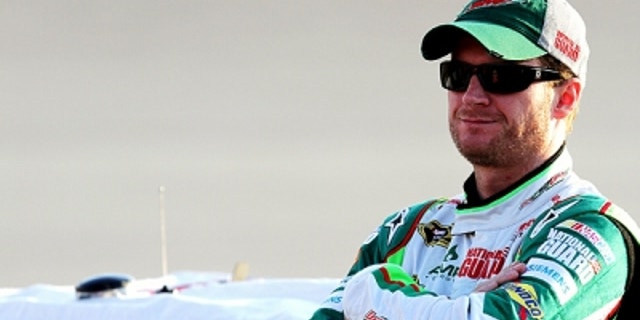 Dale Earnhardt Jr. has always preferred to keep his private life, well, private.
The third-generation racer, who has earned the distinction of NASCAR's Most Popular Driver for the last decade, has offered his fellow racers the same courtesy.
Certainly, TMZ could have a field day in the rolling NASCAR trailer park known in the sport as the "Motor Coach Lot." But there's an unwritten rule among competitors about what type of fodder is acceptable to leak outside of its gates.
"As long as it's not hurting anybody or it's not hurtful for someone to go through," Earnhardt said. "I don't want to read sad stories about people. You don't want people to have to go through the exposure of that. I think there's a gentlemen's agreement amongst everybody — what's fair and what's not.
"Your personal life, who you're dating or when you're getting married or where you're going to get married or what you do with your time off or your hobbies, I think that's totally fair game."
Certainly, Earnhardt — and anyone else with a NASCAR "hard card" or license — was well aware of the relationship blossoming between his former Nationwide driver Danica Patrick and Nationwide Series Champion Ricky Stenhouse Jr. last year. There was the cowgirl buckle Stenhouse rewarded his fellow driver with in exchange for 10,000 Twitter followers after Daytona. And there was the overnight shine she took to country music and Western boots.
And yes, there was the dancing at the Nationwide Series champion's party just prior to Patrick separating from her husband in November and a sighting at the rodeo the weekend before she finally acknowledged that the two drivers were dating last Friday.
"I think it's fine," Earnhardt said of the relationship. "Whatever people want to do to make themselves happy. They've got a lot in common. They enjoy racing. I don't think it was a big deal to be honest with you."
When Earnhardt was asked how he expected the pair to race against each other this season, his reaction was predictable.
"They've been racing together — without a problem so far."
At 38, Earnhardt is still naturally shy but a lot less reclusive than he once was. On Wednesday, Earnhardt opened up Whiskey River, the replica Western town he built on his farm for a Charlotte Motors Speedway commercial shoot to be used for the Sprint All-Star Race in May. While it's the third trip here for the speedway, it's just the second time a group of reporters was allowed to accompany the production.
Earnhardt's ability to compartmentalize the professional from the personal is an attribute he learned from his father. While he feels there was no reason to place his youthful antics on display, Earnhardt has been extremely honest with his feelings and forthcoming with details of his life.
"My dad was really, really private and that's where I got my habits and dealing with that," Earnhardt said. "When we were young, we raised a lot of hell, had a lot of fun. That wasn't something that you wanted to put out there or brag about. Me and the buddies I had when we were in our 20s, we just ran around and had fun and cut up. We showed up, raced on the weekends and had a lot of fun doing that.
"We did a couple of things as far as the "MTV Cribs" — we did that three or four times. We did that article in the Rolling Stone that I thought was pretty revealing. We did the article in Playboy that was pretty revealing. We did a lot of things early that I thought was cutting edge or out there and open more than a lot of guys were either willing to do our had an opportunity to do."
Junior's Western town is no exception. The personal effects abound with clues offering an insight to stock car's most beloved driver — a picture of his father, a jail hand-crafted by his uncles with a mannequin in John Wayne's likeness standing guard outside with life-size statues of black stallions in the distance.
Understandably, Earnhardt was initially reluctant to share his refuge so readily.
"I just get nervous about showing off material things that are expensive," Earnhardt said. "And when you build something like this people might (think) 'man, that's cool' and some people might say, 'that's just a guy with a lot of money making dumb decisions'. I didn't want to have to listen to that. That's probably why I was a little apprehensive about this particular place. But it will be here for a long time, long after me. Hopefully, somebody else finds it and uses it and enjoys it.
"Yeah, but we've kind of been out there and open for years."
It's why Junior Nation continues to remain loyal through the good times and the bad.