CUP: Junior Studying His Family's History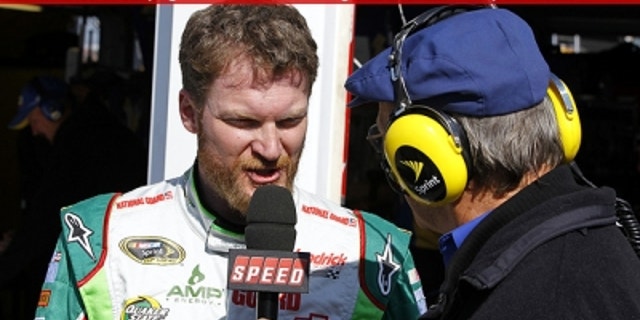 Dale Earnhardt Jr. had a revelation while visiting the White House on Tuesday.
Although Junior had previously visited the president's home at 1600 Pennsylvania Ave., his recent interest in genealogy and the Earnhardt family tree offered the driver a new appreciation for the history of the 212-year-old structure and its contents.
"Every time you go through it, I think you find something interesting that you missed the time before," Earnhardt said. "I didn't really appreciate how old some of the artwork and stuff is in that house until I did some work on my family tree this last six months and I've started to understand what 200 years really means or what 150 years truly means in the grand scope of things.
"There's a picture in there of George Washington that they had carried out of the place when they set it on fire back in the Revolution and I had known that and they told us about that before, but I didn't really grasp what that meant and how old that truly is. To be standing there in front of it and literally be able to reach out and touch it is a pretty amazing thing."
Earnhardt, who turns 38 this season, is planning a trip to Germany for his 40th birthday and wanted a better understanding of his roots to enhance his first European vacation.
"I was fortunate enough to find someone in the field of genealogy that helped me out," Earnhardt said, "and I'm trying to put together some kind of a well-organized document to sort of be able to show to family members and what have you and just keep so (sister) Kelley's (Earnhardt) kids, and if I have any one day, they won't have to do the work."
The past two generations of the Kannapolis (N.C.) Earnhardts have been well-documented. The tragic death of his father, Dale Earnhardt, in 2001 brought the seven-time Cup champion — and NASCAR — notoriety the sport had never experienced before. And certainly his grandfather Ralph Earnhardt, a former Sportsman division champ who died at 45 in 1973, the year before Junior was born, was celebrated in racing circles, as well.
But Junior's recent search for his ancestors left him wanting to know more.
"Ralph's father," Earnhardt said, "I didn't know who he was and never really cared who he was, never thought about who he was or what his family would be like. Never thought past Ralph all these years, and I started getting into his father and Ralph's grandfather and I found their burial plots and so me and my grandmother Martha and my sister and my mom, Brenda, and my girlfriend rode up there one day . . . and visited their burial plots and a lot of relatives that were born in like 1809 and 1822 and stuff like that.
"It's really cool to stand there over somebody that is responsible for you being there, and that was pretty neat. I had done that before and I had people tell me to work on my family tree before, but I didn't think it was that big of a deal. Once I got into it and started realizing the importance of it, it's been a lot of fun."
Going for 200
Could the pressure be getting to Hendrick Motorsports?
It's been 13 races since the organization's most recent win, which came when Jimmie Johnson visited Victory Lane here at Kansas Speedway. And dust must certainly be gathering on those "200th Win" hats by now.
But Johnson isn't worried. Between Dale Earnhardt Jr., Jeff Gordon, Kasey Kahne and Johnson, the teams have been fast and the results are there. Yet with all the attention, Johnson said it's important not to let the event overshadow the task at hand.
"It's kind of a deal now where we're joking about, 'Let's just not think about it,' " Johnson said. "Let's move on. We've watched other athletes hit a home run mark, or whatever it may be, and just kind of get stuck.
"We know that our teams are all capable of winning races, and we've all been very close this year. We'll just go out and do our jobs this week and hopefully get one of those four cars in Victory Lane. I know when that happens, you'll see a very big sigh of relief from (team owner) Rick (Hendrick) and the team."
Hendrick leads all team owners at Kansas Speedway with four victories in 12 races.
Not all tracks are equal
While the term cookie-cutter track has been used to describe all 1.5-mile venues, not every intermediate track is the same.
Take Kansas Speedway and Texas Motor Speedway, site of last weekend's race. Yes, both tracks are the same size, but the banking at Kansas is a mere 15 degrees in the turns, 10.4 degrees on the frontstretch and just five degrees on the backstretch compared with that at Texas, which has 24-degree banking in the turns.
Kevin Harvick, who finished ninth at Texas last Saturday, says his Richard Childress Racing team can compare the aerodynamics between the two tracks, but that's where the similarity ends.
"Mechanically this track slides around a little bit more," Harvick said. "Obviously, you still had tire falloff last week at Texas, this place is a little bit flatter, a little bit different style of the way that you drive it. There are drastic differences, but aero-wise we will bring the same car."
The distances vary, as well. The Samsung 500 was 501 miles; Sunday's STP 400 is 400.5-miles.
Say what?
When points leader Greg Biffle was asked if his No. 16 3M group was the top team at Roush Fenway Racing, he replied, "No, I still think the 99 (Carl Edwards) is the No. 1 team at Roush. I'm the underdog."