CUP: Junior Impressed By Johnson, Keselowski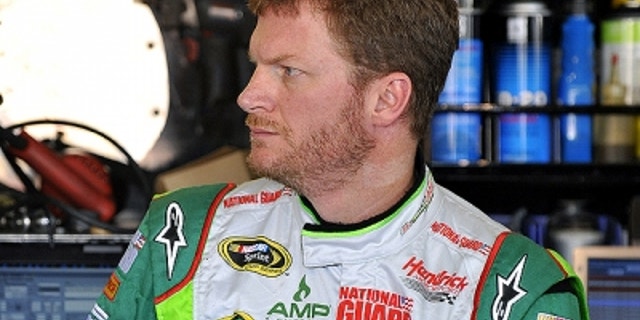 Impressed by the tight and tense back-and-forth Jimmie Johnson and Brad Keselowski displayed near the end of last week's race in Texas? So was Dale Earnhardt Jr.
"I was really impressed from what I saw from both drivers at the end of that race," Earnhardt Jr. said. "I think you saw both of them dig down and produce results that you don't see on an everyday basis. Some of the most incredible racing that I've seen in a long time between two guys in a situation like that. I was fortunate enough to be close enough to see it, and it was quite something to see."
Johnson and Keselowski battled with a high level of intensity over the closing laps before Johnson swept past on the final restart and won the race.
They will resume their competition, with the Sprint Cup championship on the line, Sunday at Phoenix International Raceway.
Earnhardt Jr. not only listed Johnson, who already has five championships, as the favorite but also said he is running in the same orbit as some of the sport's all-time greats, including Dale Earnhardt Sr.
"Jimmie is going to be hard to beat," Earnhardt Jr. said. "Jimmie is in great equipment. Jimmie has a great race team around him – smart people and one of the best crew chiefs in the business, and Jimmie is one of the best drivers in the business. It's going to be hard to beat those guys.
"Winning five in a row puts him in the conversation as being one of the guys that's the best the sport has ever seen. And any success he has beyond that just further strengthens this argument, and I think it's fair to put him in that group and compare him to Richard (Petty) and Cale Yarborough and guys like that. My father, even."
Why is Johnson so good?
"You could come up with a bunch of different reasons and not really be correct," said Earnhardt Jr. "You think about his history on dirt and in the (off-road) truck, how that must have helped him understand incredible car control. He spent years and years on dirt, and that's the best way to go to school on car control. He has incredible car control.
"He understands exactly where the grip level is, where the slip angles are and how to get right up against them and carry it through the whole corner. He'll tell you, also, that he has a great team around him. He's been with this team from the start. They've built a great group and been able to maintain that. They complement Jimmie just as well as he complements them."
Earnhardt Jr. has a unique perspective on both Johnson – now his teammate – and Keselowski, who drove Junior's Nationwide cars on his way up the ladder.
Earnhardt Jr. said it's possible that Keselowski's best options over the next two weeks will involve taking chances.
"Being open-minded to anything," he said. "They're pretty risky, too. He'll stay out on two tires, no tires, try to run himself out of gas and all kinds of crazy stuff. They are willing to really gamble. That makes them kind of dangerous in that aspect."
Junior said Keselowski sort of grew up during his time with JR Motorsports.
"He hadn't been exposed to a whole lot when we got ahold of him," Earnhardt Jr. said. "All he had ever done was race cars, and we took him to town and got him some clothes, dressed him up and showed him what was going on.
"He's pretty outgoing now. I don't know if you guys really remember just how shy and introverted he was when he first started racing for us, and he's quite the comedian these days. He's really outspoken, so he's changed quite a bit."
Mike Hembree is NASCAR Editor for SPEED.com and has been covering motorsports for 30 years. He is a six-time winner of the National Motorsports Press Association Writer of the Year Award.