CUP: Junior Eyes Return To Bristol Victory Lane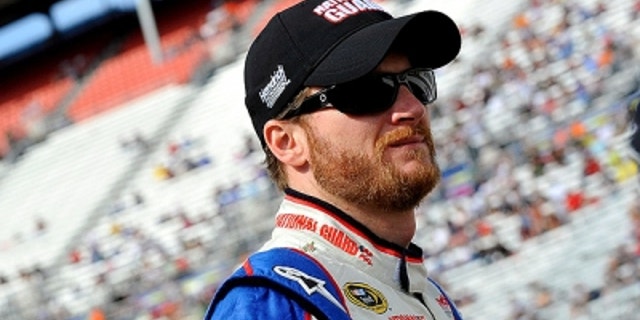 Dale Earnhardt Jr. seems to climb ever closer to ending a winless streak that now has reached 132 races.
Last week at Las Vegas, he led 70 laps – the second-best total of the day – before finishing 10th.
The thinking among some members of Junior Nation is that when the breakthrough win finally comes, many others will follow.
But hold on, Earnhardt Jr. says. Not necessarily.
"No, because I felt that way in 2008, and we won one and never won again," he said. "I just don't believe in, 'Man, you open up the floodgates [and] they are just going to come piling on.'
"I do know that when you win a race, your confidence is way up. The teams feels really good about itself. A lot of time, consistent, good finishes come after that – opportunities to win, maybe, and maybe more wins. It definitely helps your confidence a lot when you get into victory lane. The team sort of feeds off of that for a few more weeks after that win. That can be beneficial."
Although Earnhardt Jr. has performed well at Bristol Motor Speedway (12 top 10s in 24 races), his lone win here came in August 2004, when he led a monstrous 295 laps.
"That was a big deal to me because I had seen those trophies in my house all my life," Earnhardt Jr. said (his father won here nine times). "They were the biggest trophies you could bring home. They were bigger than even the championship trophy. I admired the track for how tough it was and how tenacious the races were and how hard the driving was – how difficult it was on drivers.
"It is just such a unique race track – one of a kind."
The Bristol trophy rests in his living room, Junior said.
"I don't have many trophies in my house, but that's one of them that is there," he said. "It was really even sweeter to have the opportunity to sweep the weekend like we did with the Nationwide win the day before."
Earnhardt Jr. said he took some frustration home from Las Vegas after running so well early in the race.
"I think I was disappointed that we didn't come away with a better finish," he said. "We ran good there last year. So when I got out there and led the first part of the race, I wasn't as surprised as the rest of the world was. I felt like that was how we wanted to run and could run there.
"I was disappointed that we finished where we did because we let a lot of cars that we had outrun all day beat us. That is really frustrating."
Mike Hembree is NASCAR Editor for SPEED.com and has been covering motorsports for 30 years. He is a six-time winner of the National Motorsports Press Association Writer of the Year Award.