CUP: Junior And His Nation Celebrate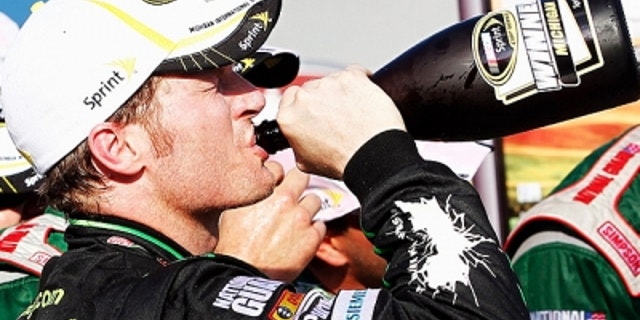 NEWYou can now listen to Fox News articles!
For Junior Nation, the partying is likely to stretch far into the night – and maybe into the morning.
Their man, Dale Earnhardt Jr., finally escaped the clutches of a long winless streak that, despite his fine runs (11 top 10s in 14 races) this season, had become an increasingly burdensome anvil.
"I was glad to do it for my fans," Earnhardt Jr. said in victory lane. "They stuck behind me for all these years. This one's for them. I appreciate their loyalty and their support. We wouldn't have made it back to victory lane without it."
It was simply a bonus that Junior won in a black car, reviving memories of his late father, an angle that was extra special because of the occasion – Father's Day.
The sport's most popular driver is a winner again – 143 races later, and that result will shake the sport for weeks – and probably impact the championship race.
"Dale is just switched on," team owner Rick Hendrick said. "He's got the confidence, and Stevie (crew chief Steve Letarte) has got the touch."
Hendrick missed the race and was in the post-race winner's press conference by proxy – Earnhardt Jr. put a Rick Hendrick bobblehead on the podium.
Hendrick was watching the race at home and said he was "too nervous to stand still. … I was so afraid there was going to be a caution or something was going to happen."
Hendrick promised a big celebration. "We do like to celebrate together because the organization just works so hard, and they want to see Junior do so well. So stay tuned," he said.
Earnhardt Jr. won four years after his last win – also scored at MIS. And this one was bigger – and better.
"That race four years ago was a fuel-mileage race, and today we just 'whooped' them," Junior said. "That felt good."
Although Earnhardt Jr. had the day's best car and led 95 of the 200 laps, he said the closing miles were frightening.
"It was the worst feeling riding around there with 15 laps to go wondering what was going to happen and how I could lose," he said. "I was in there just going crazy. I'm looking all around the race track hoping there's no debris around the corner. I was waiting on something to happen. That was terrifying, to be honest with you."
Earnhardt Jr. was clearly disappointed with Goodyear's decision to switch to a replacement left-side tire Friday night.
"We had some tough things to overcome this weekend with tire issues, and they made some changes," he said. "I wasn't very confident after the practice. Steve felt pretty good and talked about the things we would do to the car. I was a little nervous when the race started.
"We needed some adjustments. At that moment, it's kind of tough. I guess I worry if he (Letarte) knows exactly where I'm at. But I guess he knows me well enough because he made the right calls, and that thing took off flying."
Several drivers stopped by victory lane to offer congratulations to Earnhardt Jr.
"I guess it means I'm an all-right dude when people are happy about you and want you to do good," he said with a smile. "That's the way I feel. I want to see good people have success and be happy."
And he created a boatload of happiness Sunday.
Mike Hembree is NASCAR Editor for SPEED.com and has been covering motorsports for 30 years. He is a six-time winner of the National Motorsports Press Association Writer of the Year Award.