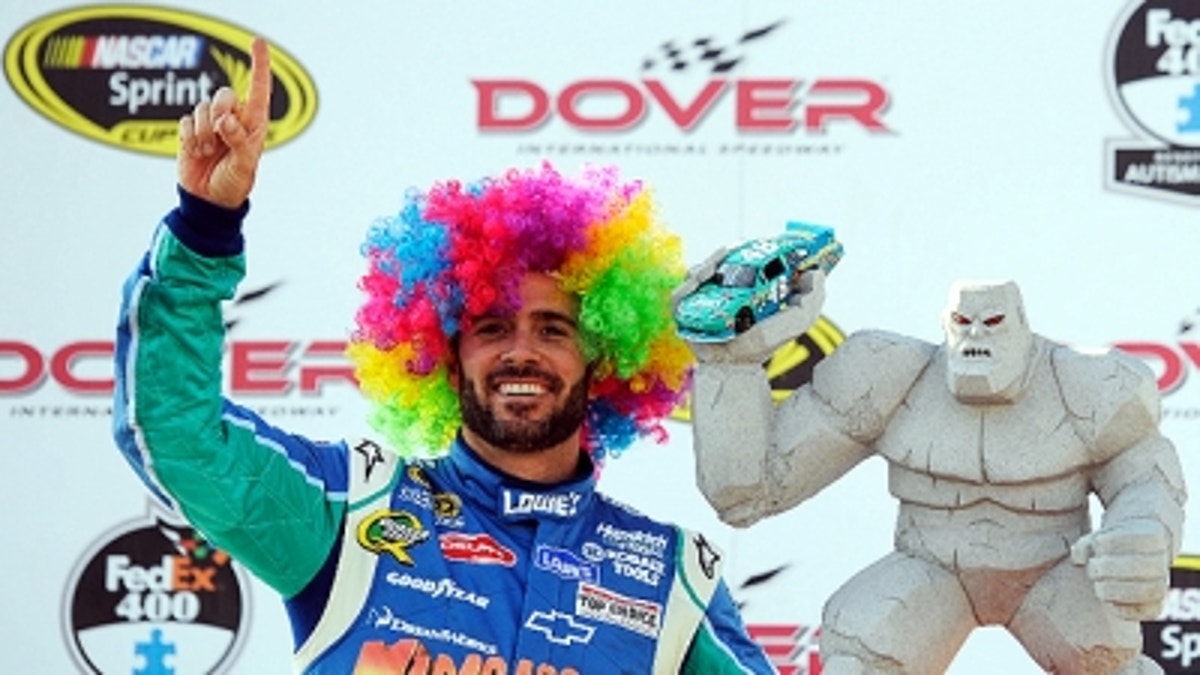 Jimmie Johnson was a clown Sunday – but only in appearance.
Before and after Sunday's FedEx 400 Benefiting Autism Speaks Sprint Cup race at Dover International Speedway, Johnson wore a gaudy multi-colored wig advertising the Madagascar 3 movie, one of his sponsors for the weekend.
It presented quite the goofy look in driver introductions.
But Johnson was the one laughing at the end of the day. He pounded the competition in the 13th race of the Sprint Cup season, leading 289 of 400 laps on the way to his second win of the season.
Johnson led the final 76 laps essentially without a serious challenge despite several caution periods that bunched the field and gave his pursuers new hope.
Johnson, still wearing the frizzy wig in the winner's interview, said the restarts presented some tricky challenges.
"We laid down a lot of rubber, and the hot tire would pick up that rubber," he said. "And it was so tough to keep your tires clean so that you could accelerate right on the restart.
"You know, I had probably my weakest restart with the 29 (Kevin Harvick), who was alongside of me going into 1. And the way track position is, you know, even if you have this dominant car or strong car, it's tough to get by guys.
"So I also look back and say that our effort on pit road today kept me in control of the race, and that that was a plus, so I could pick the lane that I wanted and control the start. And then that last one, Kevin stayed with me up through the gear box, and I was able to rally around the outside through one and two."
After a sluggish start to the year, Johnson and his No. 48 team appear to be hitting their stride as the season moves toward the summer. He's fifth in points, only 33 out of the lead, and his second win of the year virtually assures him a spot in the Chase for the Sprint Cup field and a shot at a sixth title.
Johnson wasn't discussing championships Sunday, however.
"It's just way too early to talk championship," he said. "We are doing the things right now that will win one, but we need to do this in September and on."
Johnson indicated that he'll be retiring his new hair "style" despite Sunday's success.
"I'm just proud of this hair," Johnson joked. "The hair really brought some speed to the team. Just a fun day. Clearly, we had a fast race car and amazing pit stops."
Mike Hembree is NASCAR Editor for SPEED.com and has been covering motorsports for 30 years. He is a six-time winner of the National Motorsports Press Association Writer of the Year Award.