CUP: Johnson, Keselowski Friendly Rivals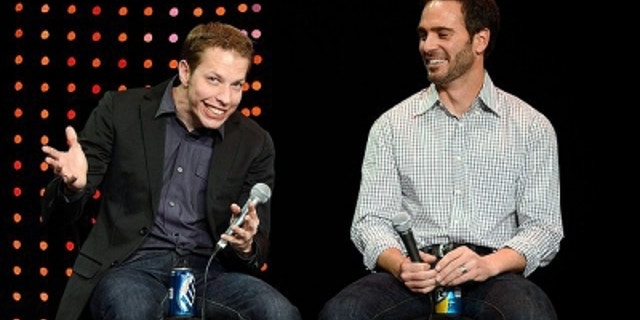 Jimmie Johnson knows a little something about rivalries.
Over the course of his NASCAR Sprint Cup career, Johnson has enjoyed friendly competitions with his teammate Jeff Gordon and former teammate Mark Martin, followed by a curious exchange or two with Kurt Busch and more recently his matchup with Brad Keselowski in the 2012 Chase for the Sprint Cup.
The battle between current champion Keselowski and Johnson here at Texas Motor Speedway last fall was one for the ages. On Thursday, Keselowski reminisced about that race, saying the experience sent a game-on message to his challengers that he could be competitive on tracks where he hadn't been in the past. Still, Keselowski felt the performance fell short of a true defining moment since he lost the race by 0.808 seconds to Johnson.
Johnson characterized the relationship he shares with Keselowski as one that's similar to those with other A-listers in Sprint Cup, "where we are going to race hard." But J.J. fell short of calling it a rivalry.
"Brad and I, what we showed here in the fall showed that," Johnson said. "We are going to race hard and get right to that line, but there is nothing malicious involved in it. Absolutely, I want to crush him, I want to lap him every race and I know he wants to do the same to me. I feel that way about others, but I will get out and I will have a beer with him. I will get out and shake his hand and congratulate him for a win, but in the heat of the moment I want to crush him.
"I don't want bad things to happen to him, but I absolutely have that competitive spirit and want to crush him."
Keselowski's car control in the closing laps of that AAA 500 certainly earned the respect of Johnson. For the two Chase contenders to slice, dice and trade paint with seven laps remaining in the fall romp was pretty sporty.
"I have that great relationship with quite a few guys," Johnson said. "There's others that you get around that maybe don't have a lot of experience racing for a win, so you're not sure how they are going to handle it, or maybe they're in a position where they are very hungry and aggressive and you have to weigh those things out.
"... I put Brad in that category of racing — Jeff Gordon, Tony Stewart, Matt Kenseth, Carl Edwards and guys that I really trust and don't even think about it — just racing for the win."
Johnson will soon have to deal with a new rivalry, that of the sibling variety.
Johnson announced on Tuesday that he and wife Chandra are expecting their second child in September. On Friday, Johnson acknowledged he didn't have a substitute driver plan for the No. 48, even though the due date coincides with the start of the Chase.
"We know that we need to, but we still have some time," Johnson said. "We are not sure who will be available come that time. I was joking with Aric Almirola last weekend that if he wanted to be my back-up driver again (he could but) he clearly has a full-time gig and can't do it. We will just have to see, but we will definitely have a plan, like always, we will be buttoned up.
"Our doctor has told me that a father has never missed a birth. That gives me a lot of confidence that I will be able to do my weekend job and then be around during the week to meet number two."
BACK ON TRACK
After Kurt Busch's Martinsville hopes went up in smoke last weekend, the driver of the No. 78 Furniture Row Chevrolet qualified on the front row for Saturday's Sprint Cup race at Texas Motor Speedway.
Busch will roll off second alongside his brother Kyle, who set a track record with a lap of 196.299 mph. It's his best qualifying effort in 48 races since he started second at the fall Dover race in 2011. That season Kurt posted three poles while driving the No. 22 Penske Racing Dodge.
"Starting up front it's awesome," Kurt said. "We will have great pit box selection. We will have track position early in the race. We will need to pace ourselves to understand how the race will unfold going from 7:00 p.m. (CT) start time into the evening when the track will be blistering fast at night."
The 2004 Cup champion has exhibited tremendous promise with Furniture Row since he replaced Regan Smith last fall. In six starts with the team, Kurt finished ninth or better in the final three races. He elevated his effort with two top-five's in the first six starts.
"I'm just real proud of my guys, really,'' he said. "Vegas was a struggle and we turned it around quick at California and posted a top five; and here we are at the third mile and a half track in a sense, and we are outside pole. It's definitely exciting for the Furniture Row Chevy SS guys and the team and everybody that is involved."
ROOKIE WOES
NASCAR Nationwide Series rookie Kyle Larson's evening at Texas Motor Speedway started off solid enough, as he rolled off 12th and ran in the top 10 before a tire blew on Lap 43.
Larson spun in front of two-thirds of the field but kept the car in one piece until he could soldier on to pit road. But as the Turner Scott racer attempted catch up to his competitors, he blew a left front tire and sustained major damage to the No. 32 Chevrolet.
"We're done," Larson exclaimed. "Left front blew and I almost hit that (expletive) truck."
Unlike his Ganassi Racing teammate Juan Pablo Montoya, Larson, 20, skillfully split the safety truck and the fence but expressed fear in almost hitting a safety worker. After several stops to repair the damage, Larson returned to the race in the 38th position.
Not long after, however, he reported, "I'm getting smoked out here like it's rubber." With the team expecting crush panel damage, Larson returned to the pits. Although he returned to the action, Larson used the remainder of the race to log laps at TMS.
Larson entered the weekend seventh in the point standings but dropped to 11th after a 32nd–place finish. Sam Hornish Jr. watched his 28-point lead diminish to two markers after he wrecked and finished 34th.