CUP: Johnson – Hendrick 'Lives By The Book'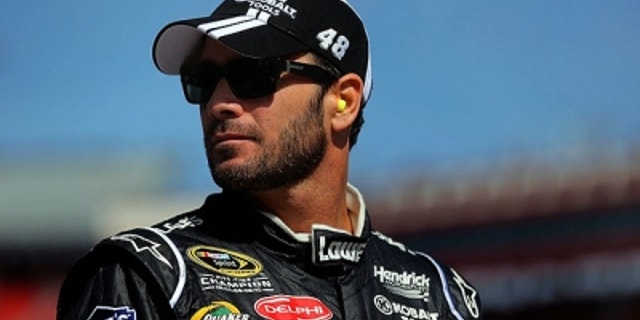 NEWYou can now listen to Fox News articles!
Without driving a lap, Jimmie Johnson jumped six spots in the Sprint Cup point standings this week.
Imagine what he might do after actually being in a car Sunday at Auto Club Speedway, where he's won five times.
Of course, few drivers would relish the opportunity to "earn" points in the fashion Johnson picked up 25 this week.
After two appeals, NASCAR chief appellate officer John Middlebrook eliminated the major penalties against Johnson and his team for pre-Daytona 500 violations, including restoring the 25 points he had been penalized.
So Johnson rolls into Fontana for Sunday's Auto Club 400 with guns blazing, even if he's not entirely pleased that Middlebrook didn't completely vindicate his team. Middlebrook left in place a $100,000 fine against crew chief Chad Knaus and probation for Knaus and car chief Ron Malec.
Johnson admitted that the appeal decision leaves some confusion in the wake of Middlebrook's removal of some penalties but support for others.
"Hendrick Motorsports lives by the book," Johnson said Friday, referring to the NASCAR rule book. "We are in there working as hard as we can to make sure those cars are within the hundredths and thousandths they're required to be to go through inspections.
"I'm not totally happy with the decision. I'm pleased that the big issues have come down. I share confusion, as well. I know our message. We didn't feel the penalty was warranted in the first place.
"I guess this is one of those positions where we agree to disagree, and through the appeals process we proved those C posts were legal."
He said the 48 team now "can go back to racing. Getting the points back is huge. It puts us right there, just outside the top 10, and the disruption if we were to lose Chad and Ron would have been huge. We have depth, but you don't want to go to the race track without your crew chief and car chief."
After a sour Daytona in which his car was nailed for violations and he finished only one lap because of an accident, Johnson has had finishes of fourth, second and ninth.
Johnson's record at Fontana tops the driver list. Jeff Gordon and Matt Kenseth are the only other drivers with multiple wins at the two-mile track. Each has three.
Johnson scored his first Sprint Cup victory at ACS, which he considers his "home" track, winning in 2002.
"That was everything to me and my career," he said. "I knew driving Jeff's (Gordon) equipment that, if I didn't win after he came off a championship season and basically handed me his cars, I was going to be in trouble. So to win in my 13th start and 10th race of that season, that is my most memorable win, period."
Mike Hembree is NASCAR Editor for SPEED.com and has been covering motorsports for 30 years. He is a six-time winner of the National Motorsports Press Association Writer of the Year Award.