CUP: Johnson Fights Winds, Takes Pole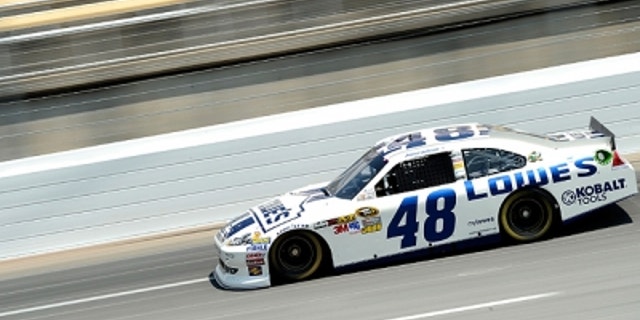 Jimmie Johnson fought through a crazy storm and high winds to capture the pole for tomorrow night's Quaker State 400 NASCAR Sprint Cup race at Kentucky Speedway.
Johnson, the five-time NASCAR Sprint Cup champion blistered the track with a lap of 181.818 miles per hour in the No. 48 Hendrick Motorsports Chevrolet to take the pole, the 26th of his career and his first since Sept. 2010.
"Just a great lap. It was tough to really know how much effort to commit to corner entry," said Johnson. "... Looking for a great run tomorrow."
Second fast was Kyle Busch, who ran 181.421 in his No. 18 Joe Gibbs Racing Toyota. Third was his teammate, Denny Hamlin, who put his No. 11 Joe Gibbs Racing Toyota in great shape, running 181.147 miles per hour.
"It was alright," said Busch. "I certainly hoped to achieve more, but we didn't."
Kevin Harvick qualified his No. 29 Richard Childress Racing Chevrolet fourth at 180.367 mph. Behind him came Ryan Newman, who went 180.337 mph in the No. 39 Stewart-Haas Racing Chevy.
The second five was Clint Bowyer, Dale Earnhardt Jr., Brad Keselowski, Jeff Gordon and Martin Truex Jr.
Heavy wind and the threat of rain delayed the session after 20 cars made qualifying attempts. The wind came out of nowhere and picked up violently, knocking over tents, cones and other objects, forcing NASCAR to delay the proceedings. The temperature dropped from near 100 degrees to 72 degrees in a matter of minutes.
But despite heavy clouds and winds, after a delay of about 20 minutes, qualifying was able to resume. Still, it was a much different surface in the second half of the session, with the temperature of the track asphalt down some 40-50 degrees. And the cars that went after the delay were all much faster than those that went early.
"The wind almost took the door of the hinges of my motorhome," said Johnson, adding he thought someone backed into it.
There have been 12 different winners in 16 NASCAR Sprint Cup races so far. Matt Kenseth, who will Roush Fenway Racing at the end of the season, leads the points over teammate Greg Biffle (-11) and Earnhardt. (-14).
Tom Jensen is the Editor in Chief of SPEED.com, Senior NASCAR Editor at RACER and a contributing Editor for TruckSeries.com. You can follow him online at twitter.com/tomjensen100.