CUP: Johnson Again Gunning For Six Pack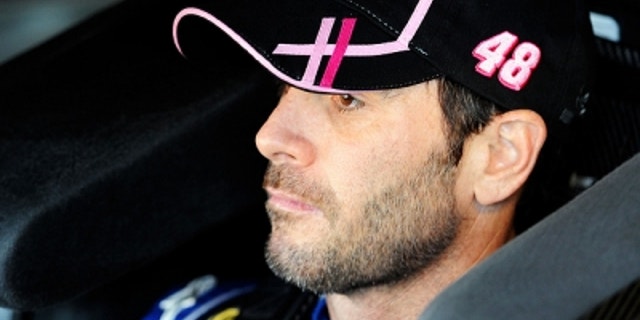 It's been a whopping two seasons since Jimmie Johnson won his most recent NASCAR Sprint Cup championship. But only a fool would discount his odds of winning a sixth title in 2013.
Yes, Tony Stewart had a remarkable run in 2011, winning five races in the Chase for the Sprint Cup en route to his third title and ending Johnson's record string of five straight.
Yes, Brad Keselowski officially established himself as the Next Big Thing with a stirring, come-from-behind run last year that made Roger Penske a Sprint Cup championship owner for the first time.
And, yes, a whole bunch of formidable other adversaries are still out there, with names like Hamlin, Busch, Biffle and even Gordon, Kahne and Earnhardt looking to claim the Sprint Cup crown in 2013.
Even with all those obstacles in front of him — and the disappointment of the last two seasons close behind — Johnson remains the man to beat as the teams prepare to head to Daytona next week for the first round of 2013 testing.
So why if he hasn't won a championship in two years is Johnson still the favorite going into 2013?
That's easy: Do the math.
Over 11 full seasons, Johnson's average Sprint Cup points finish is 2.54, a number bettered only by Richard Petty during his peak years with Petty Motorsports.
Since going full time in 2002, Johnson has led Sprint Cup Series drivers with 60 race victories. His closest competitors in that time period are Stewart at 35 wins, Jeff Gordon with 29 and Kurt Busch with 24.
Since 2006, Johnson has 42 race victories. Stewart is next with 23 wins, while Denny Hamlin and Kyle Busch have 22 each.
And although he didn't win his sixth title in 2012, Johnson had more top-five (13) and top-10 (23) finishes than any other driver, and no one bested Johnson's total of five victories.
Johnson has a lot of factors in his favor heading into 2013. He drives for Hendrick Motorsports, the dominant team in the sport; he and Chad Knaus have the longest tenure of any driver-crew chief combination; and Johnson unquestionably has a tremendous amount of talent.
This year, though, Johnson might have an additional advantage: With all the teams changing to the G6 cars, Hendrick was Chevrolet's lead development team for the all-new 2013 Chevrolet SS Sprint Cup car. That might put Johnson and the other three Hendrick drivers ahead of the Chevrolet competition and even give them a slight leg up overall. Time will tell.
"It's been a huge effort, and the times that I have driven the 2013 Chevrolet SS race car, I've been very impressed," Johnson said when the new car was unveiled in November. "I'm excited for Chevrolet, and really for all the manufacturers to have such a cool looking race car. The cars look sharp; they look good; I think the fans are going to be excited to go to the showrooms and buy these vehicles. We have been able to work on them from an aero balance. I know that my friends at GM are awfully smart, and are going to give me a great car to go race with."
Of course, to win a sixth title, Johnson, Knaus and the team will have to put the crushing disappointment of losing the 2012 title to Keselowski in the rear-view mirror. Until then, Johnson had never led the championship with two races to go and not closed the deal.
Then again, after close losses in both 2004 and 2005, Johnson went on to win five championships in a row. And when the green flag falls at Daytona to kick off the 2013 season, it figures that Johnson will be one of the favorites again.
Tom Jensen is the Editor in Chief of SPEED.com, Senior NASCAR Editor at RACER and a contributing Editor for TruckSeries.com. You can follow him online at twitter.com/tomjensen100.