CUP: Job One For Edwards – Win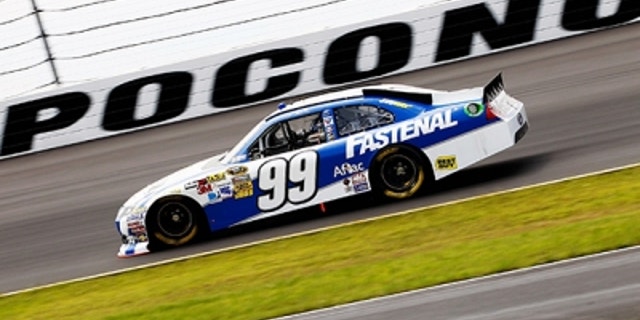 Carl Edwards is on a mission. And it's clearly defined.
Win.
"Yeah, that is our mission this week, to go win this race," Edwards said Friday of Sunday's Pennsylvania 400 at Pocono Raceway.
Edwards, on the outside looking in as far as Chase qualifying is concerned, probably needs at least two wins in the next six weeks to be a solid candidate for a wild-card berth.
"We had the best practice we have had in a long time here just a couple minutes ago," Edwards said. "Chad (crew chief Chad Norris) and all the guys on our Fastenal team are doing a really good job. That is truly the best balance and fastest car we have had here in years.
"I think all our Fords are pretty fast, and I think we gave one away last week [at Indianapolis], at least a good run. We had our trouble last weekend, but at least we had a fast car and have built on that here for the first practice, and I think we have as good of a race car as we have ever had at this race track. I am having fun, and … we are focused on getting that victory."
Edwards hasn't won a Sprint Cup race since March of last year and is in serious danger of missing the Chase after battling Tony Stewart to the final laps for last season's championship.
Norris' debut as crew chief was foiled by engine trouble last week at Indy.
Despite his near-desperate situation, Edwards remained cool and calm during a media appearance Friday at Pocono.
"We don't ever panic," he said. "We don't feel that. We know we have to go win races. That is really at the end of the day our job. We are supposed to win races.
"It is kind of fun in a way to just have that one singular focus. I think that we are going to be pretty good. I think we can do it. I know we can. We just have to go do it. We have to go make the most of these fast race cars.
"We have to take chances and remember when we are out there racing that this is not racing for points, we are not racing for anything other than a victory. In a way, that is a simple way to go race, and it is pretty fun. We are going to try to have fun with it, make the most of it and, hopefully, it works out."
Edwards said, oddly, the "whole dimension" of points racing now is outside his viewfinder.
"It just doesn't matter right now," he said. "We aren't in that position very often, and it is different. Like I said, all we can do is go make the most of it. I have been humbled before in this sport where we have expected to run very well in the points and had misfortune or poor performance and haven't done very well. This is nothing new.
"I respect how tough this sport is. The position we are in now is not shocking to me. It is frustrating. It is too bad, but we have been here before. I feel like we are strong enough and fast enough and mentally tough enough to go do the best we can and not let this bring us down any farther, and I think that is evident by how we qualified last week and are running right now. We haven't missed a beat, other than the things that have happened like the problem last week and things like that. We haven't gone out and made big mistakes, which is good."
Edwards said his relationship with Norris is still evolving after the change that moved former crew chief Bob Osborne elsewhere in the Roush Fenway Racing organization.
"As far as Chad, I heard a good one the other day," Edwards said. "They said that the Flintstones take Chad Norris vitamins. I thought that was a pretty good one. As far as I can tell, that stuff is true. Chad is a real racer. He is really dedicated, and he is a very different kind of guy as far as I can tell from Bob.
"I still don't know him yet. I don't know his middle name. I don't know where his house is at. I don't know anything about him. In a way, that makes it a little simpler. We communicate just at the level of how the car is balanced and what our plans are. There are no other things to talk about because we don't really know each other. That has been a lot different, and I think it has been good. It is what we need right now. If it works, that would be great. We are just going to keep digging."
Mike Hembree is NASCAR Editor for SPEED.com and has been covering motorsports for 30 years. He is a six-time winner of the National Motorsports Press Association Writer of the Year Award.