CUP: JGR Heavily Favored, But No Slam Dunk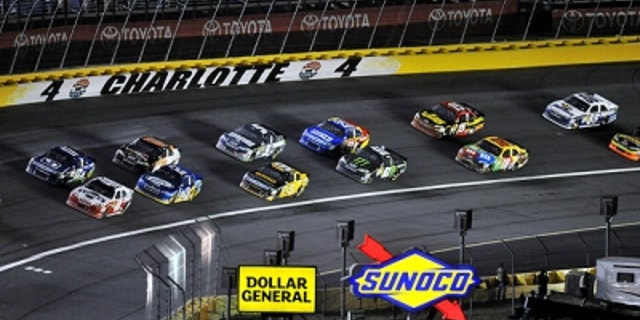 NEWYou can now listen to Fox News articles!
document.write($AllStarArticleAdContent);
If you believe the sports maxim that you are what your record says you are, then Joe Gibbs Racing comes into tonight's Sprint All-Star Race at Charlotte Motor Speedway as the prohibitive favorite.
Five times this year, the NASCAR Sprint Cup Series has raced at so-called intermediate-length tracks, those circuits longer than 1 mile and a maximum of 2 miles. Five times Joe Gibbs Racing Toyotas have triumphed at those tracks, with Matt Kenseth winning at Las Vegas, Kansas and Darlington, and Kyle Busch taking home the trophies at Auto Club Speedway and Texas. Now that Denny Hamlin is back at full strength after missing most of five races, who knows how many intermediate races JGR can win this year?
And yet winning tonight is anything but a slam dunk.
For all its success this year and years past, JGR has never won the Sprint All-Star Race in roughly two decades of trying.
The competition is daunting, too.
The powerful Hendrick Motorsports team fields an elite team of four drivers, who among them has won the all-star event eight times.
Other drivers are legitimate contenders, too: Mark Martin has two victories in this event, and fellow past winners Carl Edwards, Kurt Busch and Kevin Harvick are always a threat. And that doesn't even figure in reigning Sprint Cup champion Brad Keselowski, or Clint Bowyer, who won the October night race here last year.
This year's race is five segments: four 20-lappers and a 10-lap shootout at the end. After the first four segments, the cars will be lined up by average finish in each of those segments and then sent down pit road for a mandatory stop. First prize is $1 million; win all five segments and it doubles to $2 million.
The key to winning this year, said three-time race winner Johnson, is start the final segment as far forward as you can. And that means finishing well in each of the first four segments.
"The format, I think every team looks at it and says, 'Alright , the million bucks is after that final segment. I need to start as close as I can to the front. How do I do that?'" Johnson said. "…This year's game is go fast. You have to go fast to have a shot to win this thing. Ideally starting on that front row is key. So, that is going to be the game we play, and everybody is going to work real hard to maintain track position and try to win segments."
Kurt Busch, who will start on the outside of Row 1, agreed with Johnson's assessment of the strategy.
"We just need good average finishes with the way they're going to do the lineup on the final segment," said Busch, the 2010 all-star winner. "To be in the top five all night is where we hope to be. The guys on the team just need a nice, steady night. No big drama and just have a smooth night, and I think we'll be in the mix."
Busch's younger brother, Kyle, likes the new format.
"There's a whole bunch of different things that could certainly lie in the race, and I think it's going to make it a lot more fun not only for the fans, but for the crew chiefs as well," said Kyle. "I say fun, but I'm sure they will have some headaches after it, too. I think this year is going to be a heck of a lot better."
Pole-sitter Edwards worried that the extra $1 million for winning all five segments could be Fool's Gold.
"I think the fact that there's an extra million dollars on the line to do that, if we go out and win the first one and win the second one, you might see us screw the whole thing up trying to win the third and fourth one because that carrot is out there," said Edwards, the 2011 all-star winner. "So I think it's a pretty genius thing to put on the table, but the most important part for us is to get that first pit stall because the final 10 laps that starting position is gonna be determined by that pit stop."
Kenseth, ever the analytical one, said he definitely wants to win tonight's non-points race. But as badly as he wants to win the all-star event, he also wants to learn as much as possible and apply to the Coca-Cola 600, which will be run on the same track eight nights later.
"It's the all-star race," said Kenseth. "You want to win. There's a good payday, cool trophy and you get to be on that list for winning the all-star race. But, I do think a really big part of it, too, is to be ready for the 600. (The all-star race) is the only practice in the conditions the track is going to finish up the 600 in. That's the way it's going to be at the end of the race. Really, your only chance to gather some good information and kind of figure out what you'll have for next week. Certainly you want to be the best you can be tomorrow night. Good or bad, you're going to learn off that for the 600, so I think you try to pay a lot of attention to that as well."
Tom Jensen is the Editor in Chief of SPEED.com, Senior NASCAR Editor at RACER and a contributing Editor for TruckSeries.com. You can follow him online at twitter.com/tomjensen100.