CUP: Hornish Has Fresh Opportunity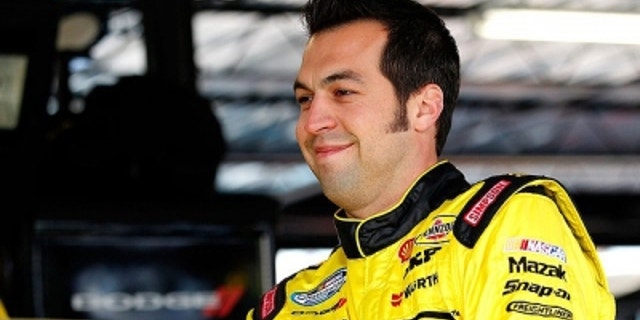 Sam Hornish Jr. sent team owner Roger Penske a text message a day after AJ Allmendinger's suspension making clear his desire: If a failed drug test keeps Allmendinger sidelined, Hornish wants to drive the No. 22 Dodge.
He is getting his chance this weekend at New Hampshire, where Penske has tabbed Hornish to again fill the seat vacated Saturday night when Allmendinger was suspended hours before the race at Daytona.
"I sent Roger a text, basically saying if they needed me, I'd be more than willing to figure out how to make it work," Hornish said. "I had to speak up because I didn't want anybody else to step in there, or anybody else to have the chance to step in there because I didn't say anything."
This is a fresh opportunity for Hornish, who has been trying to rebuild his career the last two years.
He spent almost all of last season without a ride as sponsorship difficulties at Penske made Hornish the odd man out in the organization. It was a huge fall for one of the most decorated American drivers in IndyCar history.
Hornish left that series for NASCAR at the end of the 2007 season armed with three championships, and 19 victories including the 2006 Indianapolis 500.
His desire for a new challenge led Penske to move Hornish to his NASCAR operation, where he immediately struggled and failed to show enough improvement to warrant a seat in the elite Sprint Cup Series. In three seasons, he had just eight top-10 finishes in 106 starts. His highest points finish was 28th in 2009.
Penske kept him on, and the organization worked all of last season trying to build a program for Hornish. It came together in the Nationwide Series, where Hornish this season is running the full schedule. Through 16 races, he has nine top-10 finishes and is ranked fourth in the standings.
Yet the Sprint Cup Series is where Hornish wants to be, and he got the call last Saturday to get to Daytona in a hurry.
Hornish had finished 10th in Friday night's Nationwide race and returned home to North Carolina. Penske officials pulled him out of a Charlotte television studio, where he was an analyst on a live television program, and flew him back to Daytona International Speedway.
He got to Allmendinger's car minutes before he had to get inside and drove someone else's car on almost no notice.
Even though a cut tire led to his 33rd-place finish, Hornish cherished the opportunity.
"You know, I was on the lake in the morning, doing a TV show in the afternoon and got to race at Daytona at night," he said. "All in all, that's not that bad of a day."
This time, he has a week to prepare.
Penske Racing decided it was in the best interest of the team to name a replacement driver for Sunday even before Allmendinger's situation with NASCAR is resolved. Allmendinger failed a random drug test taken June 29, and his business manager said Wednesday the driver tested positive for a stimulant.
Allmendinger has asked for his "B" urine sample to be tested, and his suspension stands at least through that process.
Hornish isn't viewing this opportunity as anything more than a chance to get some seat time in the Cup Series.
"It's no secret I want to be in Cup, and this isn't the way I wanted to get here, but I wanted the chance when it became available," he said. "They gave me this opportunity for this two weeks, and I'll try to do the best I can to my ability. I know it might only be this two weeks, regardless of what any outcome we might have, and all I can do is be blessed for the chance I have right now."
Hornish wanted the opportunity last December, when the No. 22 unexpectedly came open after Penske suddenly split with Kurt Busch at the end of the season. He was passed over for Allmendinger, and said team officials told him it was because they had built a Nationwide program for Hornish and couldn't jeopardize those sponsors.
"They said last year when they decided to put AJ in that car that I really wasn't considered because of our obligations on the Nationwide Series," Hornish said. "I can't say I wasn't disappointed at all, knowing there is an open ride at an organization you currently work for, that would have been good.
"You know, I don't know what Ricky Stenhouse Jr. would have said if Matt Kenseth left (Roush Fenway Racing) and they got someone else instead of giving Ricky the ride. But I do understand that we want to make sure we take care of all these people who have signed on for this Nationwide program."
So Hornish has been content with his role at Penske, which until now has been to help develop a second full-time Nationwide program and ensure sponsors Alliance Truck Parts and Wurth that they've made a good investment.
Hornish believes he's shown that his Nationwide team is a championship contender. And his time filling in for Allmendinger, however long it may be, won't hurt that effort.
"I want to be in the Cup Series, but I also want to take care of the Nationwide championship," he said. "I know we may not win it, but I know there is a possibility and I know we've got an opportunity. I left IndyCar because I did more than I ever thought I would ever do over there, and I wanted a challenge, and I'll be danged if this hasn't been a challenge.
"But I've been committed to the Penske organization, committed especially to Roger, and Roger is committed to me. We try to do the best we can, to bring the sponsors along and get two fully funded Nationwide programs and 3 Cup programs going. I'm committed to doing whatever they need me to do to reach those goals.'