CUP: High Stakes At Talladega Today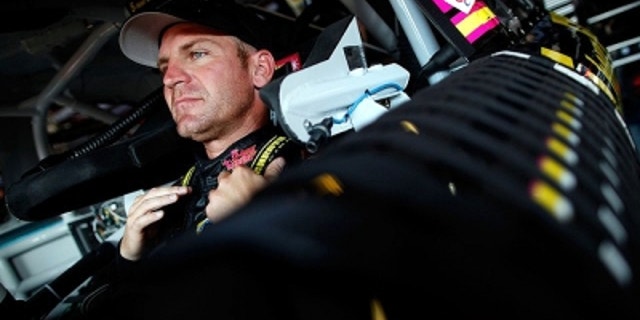 Officially, today's NASCAR Sprint Cup race at Talladega Superspeedway is listed as the Good Sam Roadside Assistance 500.
Realistically, it ought to be known as the Alabama Lottery.
Because with the nature of racing at the high-banked, 2.66-mile superspeedway, results here can be as random as a lottery pick.
At the six remaining tracks on the schedule after Talladega, points leaders Brad Keselowski, Jimmie Johnson and Denny Hamlin figure to be strong everywhere. A bad day for one of them at, say, Charlotte or Texas, might be an eighth- or 10th-place finish. A bad finish today could be 38th or 40th if they get caught up in one of the big multi-car crashes that are so prevalent here.
Thus, Talladega is the one race in the Chase for the Sprint Cup where drivers can make up — or lose — a huge chunk of points in a single afternoon.
"This is the only track that all of us can get wiped out or maybe all of us but one or two," said Clint Bowyer, the two-time defending race winner, who comes into the race fourth in points, 25 back of Keselowski.
"Maybe the 12th guy can be the only one that doesn't get taken out and, if he does, he comes out of here with a whole new outlook 10 or 15 points out of the lead and all the sudden it has changed the look of things," said Bowyer. "Breath of air for the rest of the races."
For drivers like Bowyer, Tony Stewart and pole-sitter Kasey Kahne (both 32 points back) and Dale Earnhardt Jr. (-39), a victory at Talladega could be put them right back in the title hunt.
Or it could knock them out all together.
"There is certainly an opportunity to gain if the three guys in front of us would have problems or four guys in front of us would have problems," said Stewart, the three-time and defending series champion. "At the same time, that same opportunity that could help us could also be what hurts us and takes us out of the opportunity to get caught up and give us a chance to get caught up in the Chase. It's definitely a scenario that could go either way at this point."
Bowyer agreed.
"This is a big weekend, I think, for our sport, for our Chase and everybody involved in it," he said. "This can be a game changer. This is one of the tracks that can separate somebody and possibly win you a championship. It seems like each and every week these first few, it's just been a point or two here, a point or two there. This is one that can swing 20, 30 points and take you out of the running or push you into it."
And it doesn't take much for things to go terribly wrong in a hurry.
No one knows that better than five-time series champion Jimmie Johnson, who got wrecked from behind after completing just one lap of the Daytona 500. Johnson, who is second in points, has not completed any of three restrictor-plate races run so far this season.
"The margin for error is so small on a plate track," said Johnson. "You're running three and four wide, many deep, and a few inches makes a huge difference. On a normal track, you can sense somebody is out of shape and give them a couple car widths and give them room. But here, the parameters are so tight. The smallest mistake, or not even a mistake, just a little movement, can create things and set chaos off."
Bowyer hopes to avoid that chaos.
And he hopes that No. 15 is the winning number in this afternoon's Alabama Lottery.
"Everybody is anticipating those last few laps here," Bowyer said. "I love racing here. It's so much fun. That's such a thrill to be able to go around there and know that the storm is brewing and all hell is fixing to break loose and you're fixing to be a part of it. It's a pretty neat situation to be in."
Tom Jensen is the Editor in Chief of SPEED.com, Senior NASCAR Editor at RACER and a contributing Editor for TruckSeries.com. You can follow him online at twitter.com/tomjensen100.