CUP: High Speeds Don't Worry Drivers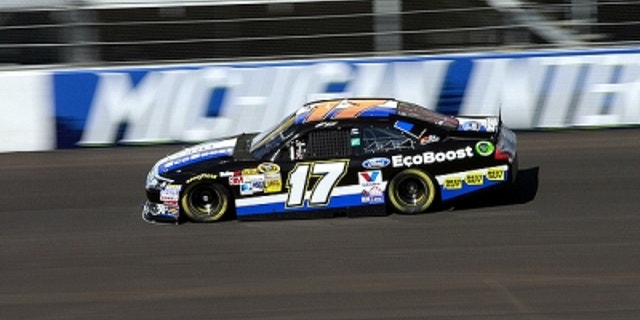 If some of the biggest names in NASCAR are worried about dive bombing Turn 1 at Michigan International Speedway at 215 miles per hour, you'd be hard pressed to tell.
The 2-mile MIS oval hosts this week's Quicken Loans 400 NASCAR Sprint Cup race, and like last Sunday's event at Pocono Raceway, this battle will be conducted on a track surface that's been freshly repaved and is both billiard-table smooth and blindingly fast.
Joey Logano broke the old Pocono track qualifying record of 172.533 mph by 7 mph last Friday. The record at MIS is 194.232 mph set by Ryan Newman in 2005, the last time the 2-mile oval was repaved. If Michigan picks up as much speed as Pocono did last week, there could be laps above 200 mph this week.
During a five-driver Goodyear tire test in April, the racers reported hitting speeds of 213-216 mph down the front straightaway at MIS. But the smoothness of the surface meant they were comfortable going that fast.
One of the drivers who participated in test was 2003 Sprint Cup champion Matt Kenseth. He said the the speeds are no big deal.
"You're not concerned about it," said Kenseth. "It's not like it's harder to drive at 215 than it is at 200 or anything like that, but certainly if something happens at the wrong place at your top speed – I don't know where the cars get upside-down and all that stuff when they spin out, I know they're (NASCAR) doing the shark fin and some other things to make sure they stay on the ground – but there's not a problem if there's not a wreck."
"It's a very fast track," said Jeff Gordon, the four-time Cup champion. "I did the tire test there, but it was a very comfortable feeling pace. The cars drove really good they stuck to the race track good. I like the tire that Goodyear brought there."
Thursday at MIS, drivers will get six hours of testing on the new track surface, with three-hour sessions scheduled from 8-11 a.m. and 1-4 p.m.
Kevin Harvick, driver of the No. 29 Richard Childress Racing Chevrolet, said he and his team will be ready.
"I think everybody knew with the race tracks being repaved that you were going to have some pretty high speeds and everybody was prepared," said Harvick. "You just go do the same things that you would do at any other race track and try to acquire as much information as you can on Thursday and apply it as fast as possible for the rest of the weekend."
Still, like Pocono, MIS is something of a wildcard that could produce another upset winner like Logano.
"Whenever you repave a track or drastically make a change of the nature of a repave, it's going to change the racing and how it works," said Brad Keselowski, one of the drivers participating in the tests. "You know, the question is, is it going to be better? Is it going to be worse? Is it going to be this or is it going to be that? You know, time will tell."
Kenseth agreed.
"Michigan, it's hard to say until you get all the cars there, but it's extremely fast," he said.
Tom Jensen is the Editor in Chief of SPEED.com, Senior NASCAR Editor at RACER and a contributing Editor for TruckSeries.com. You can follow him online at twitter.com/tomjensen100.