CUP: Hendrick Wants To Win On Sunday, Sell On Monday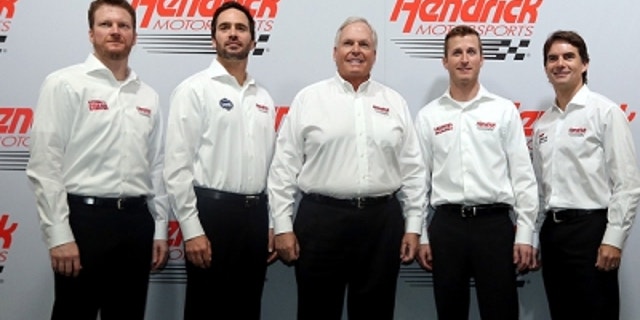 By now, it's clear the biggest storyline at the start of the 2013 NASCAR Sprint Cup season will be the new Generation 6 race cars that will make their official competition debut next month at Daytona Speedweeks.
NASCAR is counting on the sleek and stylish new cars to re-energize the fan base with closer on-track competition and distinctive manufacturer identities. And in the process NASCAR is looking to bury the ghost of the old 2007-12 "Car of Tomorrow," a vehicle loathed and excoriated by serious race fans.
Obviously, much is at stake with the new cars, which could jumpstart NASCAR in a huge way this season.
And nobody wants the G-6 cars to be more successful than Rick Hendrick, who has 10 NASCAR Sprint Cup championships, most of any team owner in the sport's history.
Sure, Hendrick wants to see Dale Earnhardt Jr.., Jeff Gordon, Jimmie Johnson or Kasey Kahne win an 11th Cup title for Hendrick Motorsports this year in the new 2013 Chevrolet SS. After all, Hendrick Motorsports was the lead Chevrolet development team on the car, working closely with the automaker and NASCAR over the past two years to ready the SS for this season.
But Hendrick himself also has skin in the came as the leader of Hendrick Automotive Group, which according to Automotive News is the second-largest privately held automotive dealership group in the country. In 2011, Hendrick Automotive Group sold more than 120,000 vehicles, with revenues in excess of $4.9 billion. Yes, billion.
Put bluntly, Hendrick wants his fleet of Chevrolet SS Sprint Cup cars to win on Sunday, so he can sell the street versions in his many dealerships on Monday.
"If I looked real happy up here today about the car, it's because after we tested at Daytona (earlier this month), we started getting orders or deposits on the car," Hendrick said of the production SS, which will be unveiled at Daytona next month and will go on sale at Chevrolet dealerships in the fall. "We got people wanting to get in line to buy the car. It's a big step."
And that's music to Hendrick's ears.
"I'm excited from a dealer standpoint," he said. "It's going to bring people into the showrooms. From a car owner standpoint, when I started racing it was the Chevrolet guys vs. the Ford guys, against the Dodge guys and all that. So I think having a rear-wheel drive, 420-horsepower car in the showroom — I think it's going to help drive traffic to the track and definitely bring traffic to the Chevrolet showrooms."
Hendrick was at the Barrett-Jackson Collector Car Event in Scottsdale, Ariz., last week and was overwhelmed with comments about the SS.
"There was the biggest crowd I've ever seen at Barrett-Jackson and the single thing they kept saying was, 'Man, I love that new Chevrolet,'" Hendrick said.
So do the drivers so far.
"You'll stand there and you'll see Fords and Toyotas and Chevrolets driving by, and it's great because everything looks different and everything is recognizable," said Earnhardt, a big fan of the G-6 cars. "You don't have to think about the driver and the team itself to associate with the manufacturer. You look at the car to see it instantly. I can appreciate the cars for that fact. I'm not sure a lot of people realize how important that is, having that instant recognition on a manufacturer for our sport and how much more healthier it is for that happening."
Hendrick said the changeover to the G6 cars is a huge step forward after the COT.
"When we had to scrap our fleet to go to the COTs, it was like having the flu," said Hendrick. "It was like, we're getting away from our product to a common template to a COT, which I didn't think — I didn't like."
This time around, though, Hendrick is much more positive about what he sees
"This, I'd spend the money to get back … to a production car that we sell and the fans love. And at a time when we want to see our sport grow — TV audiences and at-track — this is what's going to bring that die-hard race fan back, seeing these cars that see in the showroom out there on the track."
Tom Jensen is the Editor in Chief of SPEED.com, Senior NASCAR Editor at RACER and a contributing Editor for TruckSeries.com. You can follow him online at twitter.com/tomjensen100.