CUP: Hendrick Teamates Positive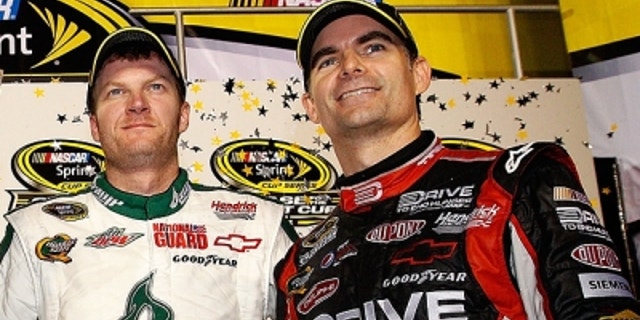 The drivers are distinctly poised.
The results are undeniable. Even during the worst of competitive droughts, there's still a sense of promise that the next race or the next week will bring another opportunity to knock off the competition.
Call it the Hendrick Factor.
While it might appear as an intangible, the assurance that comes with full sponsorship, top-of-the-line personnel and consistently stout race cars continues to fuel drivers under the Hendrick Motorsports banner.
After two decades on the NASCAR Sprint Cup tour, four-time champion Jeff Gordon always operated under the notion that whatever challenge arose, a solution would follow. Even with the No. 24 team currently 17th in the point standings and Gordon winless in 20 races, victory No. 86 could just be around the corner.
"Absolutely," Gordon said. "There have been small moments along the way where you're not as good as another organization out there, or your teammate for that matter, that you question things. But you always know that the tools and the ingredients are there. It's just what you do with them.
"That's always allowed me to keep my confidence not only in myself, but in the team. I think that's what's allowed us to be constantly not just contenders but successful over all these years. Any time you can take a variable and take it off your list, then that's a plus. And that's something I've been fortunate to have ever since I've been at Hendrick.
On Saturday, Gordon's 71st career Cup pole (191.623 mph) — elevated him to third on the all-time pole list — and marked his 20th consecutive season with a pole, tying David Pearson for the longest all-time streak.
Certainly, Hendrick's winning tradition enticed NASCAR's Most Popular Driver, Dale Earnhardt Jr., to the organization even before team owner Rick Hendrick amassed all 10 of his Cup titles or 199 wins. But Junior's move to the juggernaut has been pressure packed since he arrived.
If a driver can't win with a Hendrick team, what hope does he or she have of winning any place else?
"His choice to come there spoke volumes of our organization and the way people think about what we do and the way people think in the organization as well," Gordon said. "While it keeps the expectations high and the pressure very intense, at the same time we know what we're capable of and it's just from the quality of people and the resources that Rick brought to the table and has always committed to us.
"There's so many teams out here that you question all kinds of things and when it comes to our cars' performance and the competitiveness of our teams, that's really something that we never waiver from."
Despite the height of where the Hendrick bar is set and Earnhardt's struggles since joining the fold in 2008, he's persevered through one of the longest acclimation periods in NASCAR. Although Junior won the 2008 Bud Shootout and his first point race in the No. 88 National Guard Chevrolet 15 events later, he's endured a 138-race losing streak — the longest of his career.
But it's been his belief in the organization that assuaged Earnhardt's doubts.
"I think Jeff is right about how the Hendrick factor really does give you a lot of confidence," Earnhardt said. "That was one of the things that really kind of got me through the tough years over there, was knowing how good the equipment was, and knowing that if we utilized it right that we would have good success.
"It is the best stuff out there. We've got the best employees and the most dedicated employees. Our boss man is amazing and has put a lot of talent around the drivers. I can't express how great it is to work there and just how impressive it is. Every time I go over there, everything is in its right place and everybody is doing exactly what they need to be doing. It's just really incredible. So it's impressive and I'm proud of it and proud to be a part of it."
In four full seasons in the No. 88 Chevrolet, Earnhardt has qualified for the Chase to the Sprint Cup in 2008 and last season. He's currently second in the point standings and trails Greg Biffle by five markers. Earnhardt matched that status after nine races in 2003 but led the point standings after the same number of events in 2004.
Presently, Earnhardt's strategy is to "put together good races one after the other, complete races, finish every lap, finish as good as the car can, steal a couple of spots here and there. ... and keep putting points on the board." Earnhardt feels by building a point cushion it will allow the team the luxury of experimentation with 16 races remaining before the Chase.
Then again, Earnhardt wouldn't mind accumulating the all-important wins which carry three bonus points for each victory. When it comes to restrictor plate tracks such as Talladega Superspeedway, Earnhardt's confidence naturally peaks particularly with the rules package that was introduced at Daytona in February.
"I feel like I'm in the best equipment that's out there and that gives you a lot of confidence," said Earnhardt, who qualified 18th. "I feel like I know what I'm doing when I come here. I feel like that if I could create the best scenario for me to come to Talladega and win a race, that this is it. I'm driving the best cars. I feel like I understand how to get around the race track.
"When we started tandem racing, I really didn't understand that and didn't like it and didn't want to do it. And so, I didn't wrap my brain around it and accept it and try to learn how to do it as quickly as some. I almost wished it away and it wasn't going away. We've had some back luck in getting caught up in wrecks, but we've always at some point, even when those were happening, we've been up front and running well.
"I haven't had a race since 2004 here where I felt like I didn't know what I was doing or I was lost or making bad decisions one after the other; or that I had lost my savvy here or my mo-jo. I look forward to a good race. If we do what we need to do and make the right moves, we'll be up there again trying to win."
Junior's the first to admit that he's "never really taken anything for granted". However, with the way his cars are running and the leadership provided by crew chief Steve Letarte, Earnhardt humbly believes he can win anywhere.
"I'm kind of looking forward to going to Darlington and back to race tracks where the car handles because we're having such a good year," Earnhardt said. "It's not a slight on Talladega, but we're having such a good year at all these tracks, and the cars are driving so much better over time, even from last year, the cars are better. I'm kind of looking forward to other tracks as well.
"I know this sport can be brutal and great all at the same time. You just hope you are prepared; that we try to run a smart race, and hope we can make the right moves, beat the odds and win the race.
"We are having a good year. We're trying to concentrate on our momentum, our confidence and the team's true ability."
Still, given that five of Earnhardt's 18 career Cup wins have been earned at Talladega, it would be a great place to start.
NUMBERS GAME
200: NASCAR wins for Toyota with Joey Logano's victory in the Aaron's 312.
42: Of Toyota's wins were in Sprint Cup, 67 in Nationwide and 91 in trucks.
76: Toyota wins were earned by Kyle Busch.
SAY WHAT?
Marcos Ambrose qualified third for Sunday's Aaron's 499, his best effort of the season and by far his best effort at Talladega Superspeedway where he had a previous average start of 26.2 prior to Saturday. Ambrose credited his veteran crew chief Todd Parrott with the result.
"He really is a wizard at these race tracks," Ambrose said. "He loves them. He has a passion for these plate races like I haven't seen anyone with that much enthusiasm and commitment to try to get it right. He has gotten our team and cars better every single time we have gone to a speedway race. He is just rubbing on it and knowing what to do and getting everything lined up.
"When I first joined with Todd in November he had parts in his back seat for the Daytona 500 he was driving around for two months. That is what it takes. You have to be constantly thinking about it, constantly getting stuff done that you need to work on to try to find that last half a horse power or last bit of drag. I knew as soon as we rolled up here that we had a good car. It takes a lot of work. It is no secret. Todd Parrott has a passion for it and is committed to making these plate cars the best they can be."