CUP: Hendrick Ruling A Game-Changer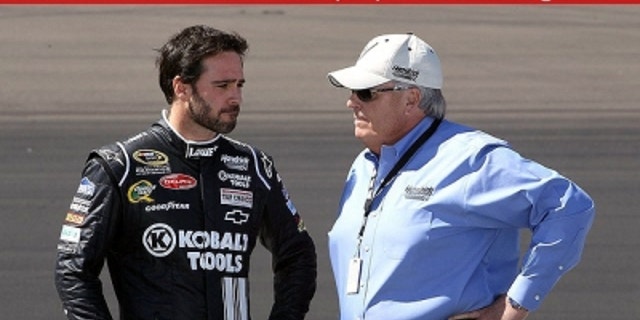 Analysis
It is difficult to overemphasize the remarkable nature of what occurred within the walls of the NASCAR Research and Development Center in Concord, N.C., Tuesday.
Go all the way back to the very first race in what would become the Sprint Cup Series. Then it was known as Strictly Stock, and the inaugural event was held on the old Charlotte (N.C.) Speedway, a three-quarter-mile dirt track that was located within a helmet's throw of the current Interstate 85.
The date was June 19, 1949. After 150 miles of racing on a less-than-pristine dirt surface, Glenn Dunnaway, a driver from nearby Gastonia, finished first. He was three laps ahead of Jim Roper, who has driven his car from faraway Kansas to participate.
Dunnaway celebrated, but not for long. Officials found in post-race inspection that his 1947 Ford had altered rear springs (which was logical, because it formerly had been used to haul heavy moonshine loads, thus the extra rear support).
Dunnaway was disqualified, and he was mad. He took his grievances all the way to court, where he lost again. The court ruled that NASCAR had the right to interpret and enforce its rules. Second-place Jim Roper was declared the race winner.
That was a major victory for NASCAR as it sought to establish its presence as a bona fide motorsports organization.
On Tuesday, in an environment far removed from those dusty days (and on the other side of Charlotte), NASCAR absorbed what must be considered a major – and almost certainly unprecedented – defeat in its approach to attempting to regulate the often quasi-clandestine goings-on in its series shops and garage areas.
Former General Motors executive John Middlebrook, serving as NASCAR's chief appellate officer, Tuesday eliminated the most significant penalties levied against the Hendrick Motorsports/Jimmie Johnson team in the wake of an aerodynamic violation discovered in pre-Daytona 500 testing.
After hearing both sides of the issue in a long session at the R&D Center, Middlebrook overturned NASCAR's six-race suspension of crew chief Chad Knaus and car chief Ron Malec and restored the 25 points Johnson had been penalized. He left intact a $100,000 penalty and kept Knaus and Malec on probation through May 9.
The money and probation are small trees in this big forest. Johnson jumped from 17th in the Sprint Cup standings to 11th with the points restoration, and the team's ability to have Knaus and Malec working at race sites over the next six weeks is very big, indeed, as Johnson seeks a sixth championship.
The switch from being in "jail" to being hit with a figurative slap on the wrist is of historic consequence. Never has such a major NASCAR decision been overturned, particularly in view of the team, individuals and circumstances involved.
Perhaps most importantly, there is the potential psychological impact of what – despite the remaining penalties – must be considered a victory for team owner Rick Hendrick and Knaus, one of the most closely watched crew chiefs in the business. The team is likely to use the whole affair as an emotion-builder as the schedule moves into its spring months.
The appeal reversal is likely to receive mixed reviews in the NASCAR garage, where a certain amount of innovation is applauded but big steps over the line are not. There also will be questions about NASCAR's ability to enforce its competition rules from a position of strength after having its penalties sliced.
J.D. Gibbs, president of Joe Gibbs Racing, said Wednesday, however, that he doesn't anticipate a sea change in the garage.
"We've been in this sport for a long time," he said. "They do a pretty good job of letting you know what's acceptable and what's not. We kind of trust them to handle things the right way, and they do a great job.
"You'd love to have more answers to the questions you have, but you're not going to get those, and it's not their job to tell you that. Guys in the garage know how things are done. I don't think it's going to change much going forward."
Gibbs said he and other team managers understand the appeals process.
"It's one of those things that you kind of trust them to make good decisions and move on, knowing that if for some reason you're ever in that same spot down the road, you'll be looked on the same way.
"We think it works pretty well. Is it perfect? No. No system is perfect, but the way they do it makes sense from NASCAR's standpoint. I'm sure there are a lot of people who aren't happy with it, but the reality of it is we weren't involved in those conversations. It was in Rick's best interest and his team's best interest to make their case the best they could, and it sounds like they did that."
An obvious question involves how the friendship between Middlebrook and Hendrick might have impacted the situation, but that doesn't seem to be a particularly hot issue among garage residents.
"John is a first-class guy and a stand-up guy," Gibbs said. "We've known him for a while. At the end of the day, he doesn't have to do this. He's been around the sport for a long time, and he values it."
Mike Hembree is NASCAR Editor for SPEED.com and has been covering motorsports for 30 years. He is a six-time winner of the National Motorsports Press Association Writer of the Year Award.