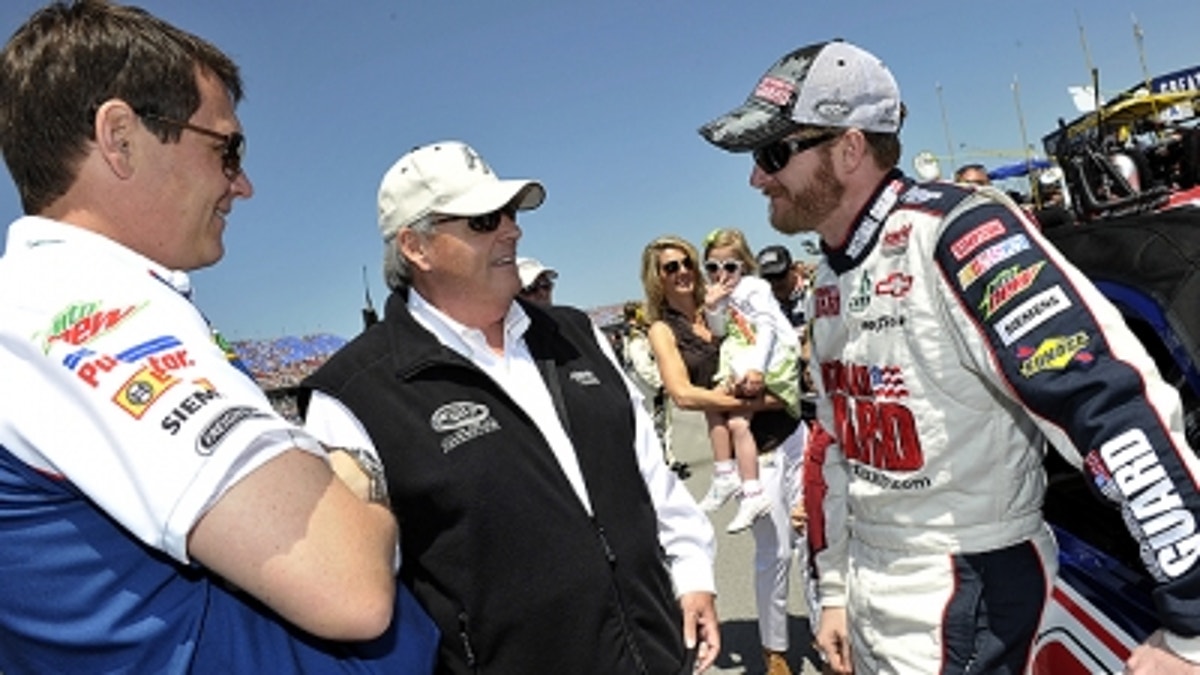 Rick Hendrick gave little warning to his crew chiefs when he decided to make widespread organizational changes after the 2010 season.
Among the swaps? Moving Steve Letarte away from four-time NASCAR champion Jeff Gordon after five full seasons for a daunting job -- guiding Dale Earnhardt Jr. out of his lengthy slump.
"I walked in one day unannounced and said, `Next year, you're not going to have Jeff Gordon, you're going to have Dale Earnhardt,'" Hendrick said. "No one knew what was going to happen. When I told him, within 15 minutes he was in his car driving to Dale's house, and he said, `I'm going to sit down with Dale and we're just going to talk about racing, about life, about each other, what each of us want to accomplish.'"
It was a critical moment for NASCAR's most popular driver, who in his 51st race with Letarte finally broke a four-year losing streak with his victory Sunday at Michigan.
Earnhardt had been through the wringer. It started in 2007, when he made the difficult decision to leave his late father's race team and chose Hendrick Motorsports after the most frenzied free-agent pursuit in NASCAR history. The first season with Hendrick in 2008 was OK as Earnhardt won a race and made the Chase for the Sprint Cup championship.
The next two years were terrible, and Hendrick had to fire Earnhardt's cousin, Tony Eury Jr., when the two could no longer function as driver and crew chief. Then came Lance McGrew, who couldn't get the No. 88 team turned around.
So it was up to Letarte, a Hendrick Motorsports lifer who had started as a part-time employee as a teenager in 1995. Hired full-time as a tire specialist, he'd risen through the company ranks to crew chief working only with Gordon.
Starting over was going to take some relationship-building, and Letarte went right to work.
"They were together all the time. That created that trust ... Dale does not trust everybody," Hendrick said. "Chemistry is so important. Sometimes you never hit the right combination. But, man, I look back and I think we're very fortunate -- didn't have any idea it was going to be this good. But I think that the chemistry between these two guys, and I've been doing this for 30 years, is as good as or better than any I've ever seen."
Letarte's biggest responsibility was rebuilding Earnhardt's confidence, shattered during his slump. He coached Junior outside the race car, and cheered him over the team radio, and it didn't take long last season to see Earnhardt starting to believe in himself again.
Only that's not where Earnhardt believes Letarte made the biggest difference. Letarte's best work, the driver said, was in setting some rules for NASCAR's biggest superstar.
"He didn't really have to sell me on anything, I just did whatever he said," Earnhardt said. "And the first thing he said was, `Man, this is going to be a little different. I'm going to need you to be accountable.' He gave me all kinds of little restrictions and things he needed me to do, and places he needed me to be.
"That structure and accountability was good for me. This team has been successful for years, and I knew he's got to have a pattern for it to be that way, so I just did what he told me."
Letarte has grown up in the Hendrick organization, and much of his approach in dealing with people he learned from the team owner. He also worked for years under Ray Evernham, who guided Gordon to three championships, and he's been side-by-side since 2002 with Chad Knaus, who won five-straight titles with Jimmie Johnson.
What Letarte learned over the years is that accountability in the workplace is as critical as the car itself. He needed Earnhardt engaged, and to be available when the team engineers needed feedback.
It was non-negotiable.
"This is how this building has always operated. It operated that way when Ray was here, I think Chad and I learned a lot from him, how he ran his race team," Letarte said. "There are expectations set forth for every employee whether you're the tire man, engineer, engine man or the driver. The driver isn't a subcontractor, he's a team member.
"I think those expectations were laid out, they've been met 110 percent. It's not what people say in life that makes a difference, it's what people do. I think those actions have spoken louder than any words that could have been said within the team to get everybody fired up and pulling on the same side of the rope."
It's hard to question Letarte's methods considering the turnaround Earnhardt has made.
Although he didn't win last season, he returned to the Chase field for the first time since 2008. This year, the losing streak has finally ended, and Earnhardt leads the Sprint Cup series with 12 top-10 finishes through 15 races. He is the only driver to complete every lap this season.
Earnhardt heads to Sunday's road course race at Sonoma, where he's never notched a top-10 finish, ranked second in the standings and a legitimate championship contender.
Hendrick, two days after Earnhardt's dominating win at Michigan, couldn't praise Letarte enough for the job he's done.
"Stevie has a unique way of putting his arm around him and saying, `Look, Bubba, we're in this together, together we're going to do this, this is what I'm going to do, this is what you need to do,'" Hendrick said. "To go from doubting what he had, to feeling like he has the best (team) in the garage, that's a tremendous job. I think it's probably the hardest job out there."