CUP: Helton Talks About Hendrick Appeal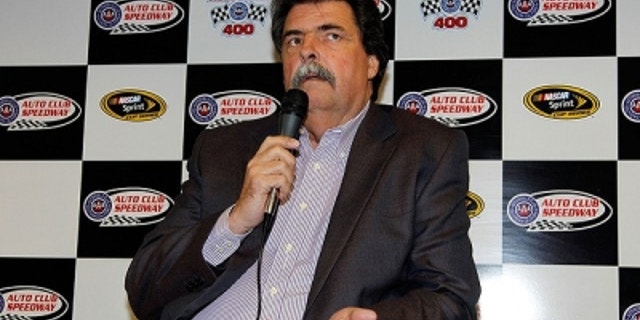 NASCAR President Mike Helton defended NASCAR's inspection process Friday and said that the fact that Hendrick Motorsports crew chief Chad Knaus' $100,000 fine was upheld shows that the sanctioning body is doing its job enforcing rules.
Knaus and car chief Ron Malec were suspended for six weeks and Knaus was fined $100,000 when NASCAR officials found what they said were illegal C-posts on Jimmie Johnson's Daytona 500 car Feb. 17. Johnson, Hendrick's five-time champion, was docked 25 driver points.
But NASCAR Chief Appellate Officer John Middlebrook, after a lengthy hearing Tuesday, rescinded the six-week suspensions for Knaus and Malec and overturned Johnson's points penalty. He upheld Knaus' $100,000 fine, however.
Middlebrook's decision was stunning because a three-member appeals panel had previously upheld all of the penalties, and because it appears to exonerate Hendrick Motorsports and Knaus, who has been suspended by NASCAR three times and faced several fines for rules violations.
Middlebrook did not provide an explanation when announcing his decision, and Helton would not say if he knew the reasoning behind the ruling. He said that Middlebrook is under no obligation to publicly explain his rulings.
Helton said he did not plan any immediate changes to NASCAR's inspection process based on the penalties being overturned.
"Some of our penalties were upheld," Helton said Friday at Auto Club Speedway. "That tells you that the inspection process was correct and there was an issue with the car. The pieces that were not upheld, if there is a way for NASCAR to be more clear, which is what we learn every time we go through the process, whether the penalties are upheld or modified, we learn from the process.
"We should [learn] because we have worked very hard to do this. If we can make it more clear, more understandable, more definitive where it is more difficult to disagree with it, then we will continue to try to do that."
Helton also defended NASCAR's choice of Middlebrook, a former longtime General Motors executive and friend of both Helton and team owner Rick Hendrick, to hear the final appeals.
"When we chose John Middlebrook as our chief appellate officer, we chose him based on our experiences with him for several years and his pragmatic approach to business and his relationship with race teams and with NASCAR," Helton said. "The reasons that we chose the current chief appellate officer haven't changed. Our opinion and belief in our chief appellate officer hasn't changed."
The C-posts run from the roof of the car to the rear quarter panel and decklid. NASCAR officials cited rules against streamlining the contours of the car with unapproved aerodynamic modifications when issuing the penalties.
Knaus and Hendrick claimed that they weren't given the opportunity to fix the problem with the car as other teams were at Daytona and argued that NASCAR officials should have at least placed templates on the car during the initial inspection. It also claimed that the same C-posts passed inspection multiple times last season.
So what if Hendrick brings a car to the track with the same C-posts again? Will the parts be confiscated?
"I hope so," Helton said.
SceneDaily.com • Kevin Harvick looking forward to defending title at California