CUP: Harvick Hoping For Recharge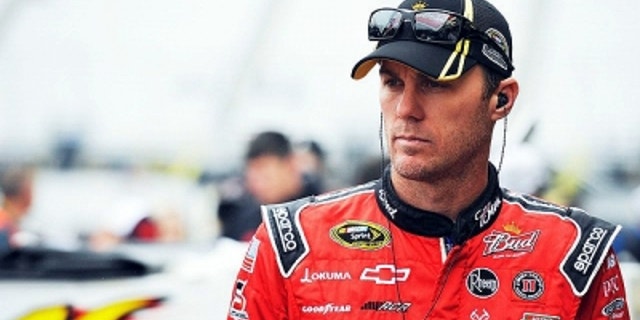 NEWYou can now listen to Fox News articles!
The start of the Chase for the Sprint Cup hasn't been disastrous for Kevin Harvick, but neither has it been a walk in the sunshine.
Harvick was 12th in the Chase opener at Chicago and 11th last week at Loudon.
He started the Chase ninth and now is eighth – not out to lunch but not in prime position. He's 31 points behind leader Jimmie Johnson and needs a couple of strong runs to return to championship contention.
"I think, obviously, we need some momentum, but we've needed that all year," said Harvick, who remains winless this season. "It's something to where we've kind of started 'average' through the first two races. The unique thing about this is you just plug along week after week and see where you are.
"It's really not going to change anything you do. You're going to go out and get the best finishes you can. We need to win a race before the year ends."
Harvick tested last week and will test again Wednesday in Nashville before the Chase moves on to Dover, Del., this weekend.
"Right now it's about catching up on the performance of the cars and where they need to be and getting the cars back on the 1.5-mile tracks to where they need to be," Harvick said. "We have some good race tracks coming up for us that we need to make something happen at."
Harvick has remained in the top points group this season despite some struggles.
"It's been one of those years," he said. "You beat your way through these cycles and eventually one day it all turns around and you can't do anything wrong, and you don't even know why.
"There's really no magic to this. You go out and go as hard as you can go every week. If your car is not running as it should be that week, you try to take the best finish you can from that particular week."
Team owner Richard Childress said the company is wrestling to solve its performance problems, and added that Harvick remains in the championship hunt.
"It's never over until it's over," he said. "But you can't get too far out. We've got some really good races coming up for Kevin. We tested last week and we're testing again this week. We're spending a lot of time with our engineers."
With only Harvick making the Chase for RCR this year, some changes are expected during the off-season. The No. 29 team also could be impacted by those. Childress would not commit Tuesday to keeping Gil Martin as Harvick's crew chief next season.
Mike Hembree is NASCAR Editor for SPEED.com and has been covering motorsports for 30 years. He is a six-time winner of the National Motorsports Press Association Writer of the Year Award.