CUP: Harvick Hits Milestone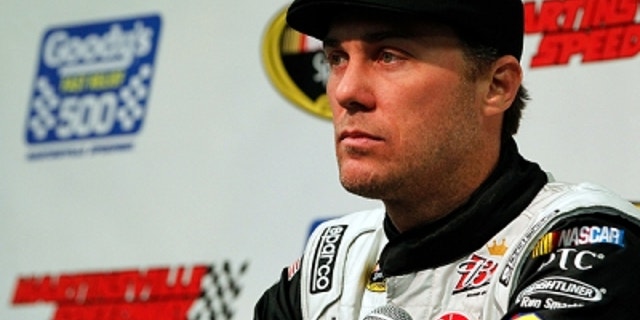 Sunday's Goody's Fast Relief 500 at Martinsville Speedway will mark Kevin Harvick's 400th career NASCAR Sprint Cup start, a significant milestone for the Bakersfield, Calif. native.
Harvick, of course, came into the Sprint Cup series under extremely trying circumstances, taking over what was the No. 3 Richard Childress Racing Chevrolet after Dale Earnhardt was killed on the last lap of the 2001 Daytona 500.
Friday morning at Martinsville, Harvick said that only in recent years has RCR finally been able to move on fully from the Earnhardt tragedy.
"They piled up pretty fast," Harvick said of his previous 399 Cup races. "Obviously the first year was what it was. The second, third, fourth and fifth year, those weren't exceptional years. I feel like over the last really three or four years we've kind of got everything together. With all the race teams and everything going together this year at Richard's (RCR), it kind of feels like a lot of the pieces have fallen together over the past three or four years."
Part of the process has simply been maturity and personal growth, according to Harvick.
"Getting that stability and comfort level and understanding where Richard is as a team owner and a person, and where I am as a person and driver," Harvick said of what helped him develop at RCR.
That doesn't mean the process was simple or easy.
"There's been a lot of changes, and I feel like it's taken seven or eight years to get through the Earnhardt transition," said Harvick, who is the defending Martinsville race winner. "There's a lot of things you look back on now and that effect took a lot of time. Then as the grandkids, Austin and Ty (Dillon, Childress' grandsons) came, you really see that enthusiasm level come back that I first saw in Richard in 1999 and 2000 as we led into the start of my career at RCR.
"So there's been a lot of change and I think there was definitely a lull as a company that we had from 2002 to 2009," said Harvick. "I believe 2010 and 2011 were solid years and have built into a solid relationship. I think the results are on the race track with more wins and pretty much competitive week in and week out. That's something you can see, that comfort level with everybody. It's just taken a while."
Harvick and wife DeLana are expecting their first child in July and the combination of impending parenthood and selling Kevin Harvick Inc., their former race team, has allowed the driver to become a lot more relaxed this year.
"I don't see Kevin a lot away from the track," said Jimmie Johnson, who like Harvick will be a threat to win both Sunday's race and the series championship this year. "But at the track, our conversations in the past would revolve around man, 'There is just a lot going on.' And now I hear a different side and how much he had fun during the week go-kart racing and playing golf and the experience with DeLana and her pregnancy. There are a lot of different storylines or topics, I guess, we discuss. Before, it was payroll or insurance or somebody got hurt in the shop or whatever it was. So I can only imagine the stress level and how it's come down."
Tom Jensen is the Editor in Chief of SPEED.com, Senior NASCAR Editor at RACER and a contributing Editor for TruckSeries.com. You can follow him online at twitter.com/tomjensen100.