CUP: Harvick Captures Duel No. 1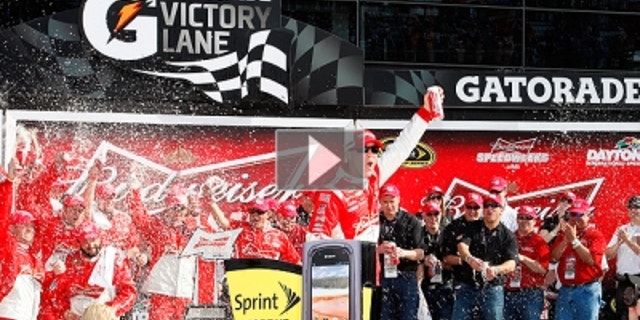 brightcove.createExperiences();
Kevin Harvick continued his hot streak at Daytona Speedweeks, as he won the first of Thursday's two Budweiser Duel 150 qualifying races at Daytona International Speedway.
Harvick held off Greg Biffle to win, just as he did when he captured the Sprint Unlimited on Saturday night. Juan Pablo Montoya made a late charge to third over Jimmie Johnson and Kurt Busch.
Danica Patrick started from the pole, knowing she had to keep her car intact to maintain the No. 1 starting spot in the big prize, Sunday's Daytona 500.
"You guys have done an awesome job all week," Patrick said on a warm-up lap. "Now, it's time for me to go do my job."
Second-qualifier Trevor Bayne took the lead on the opening lap, as Patrick began to slip back, falling to 22nd on Lap 10. Protecting her car was critical for Patrick; had she crashed, she would lose the No. 1 starting spot in the Daytona 500. So instead, she played it safe all race long, finishing 17th.
At the halfway point, Bayne led Casey Mears, Martin Truex Jr. and the Penske Fords of Brad Keselowski and Joey Logano.
Finally, on Lap 37, Bayne surrendered the lead to Harvick.
Most of the leaders pitted on Lap 42, Bayne blowing a right-front tire as he tried to brake for the pits. Harvick maintained the lead, with the race heading into its final stages.
On Lap 53, there was a crash in the exit of Turn 2, as Denny Hamlin spun on the outside and hit Carl Edwards, collecting Regan Smith, and Bayne with him. Montoya also pitted with body damage from hitting the wall. It was the fourth wreck for Edwards since Speedweeks began.
The race restarted on Lap 57, with Harvick and Biffle fighting for the lead, ahead of Johnson. Once again, Harvick was able to win.
Brian Keselowski finished 21st and was the only car in this race not to make the Daytona 500.
Tom Jensen is the Editor in Chief of SPEED.com, Senior NASCAR Editor at RACER and a contributing Editor for TruckSeries.com. You can follow him online at twitter.com/tomjensen100.