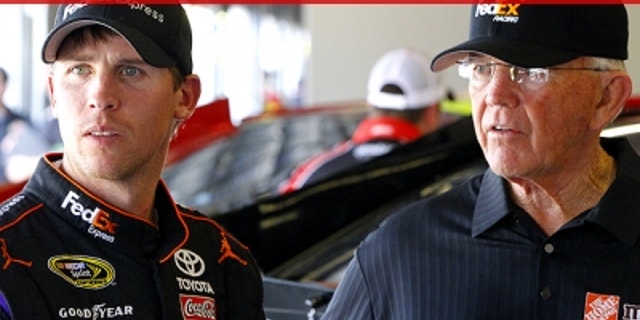 Denny Hamlin has signed a contract extension with Joe Gibbs Racing. An announcement is expected later tonight.
"We pride ourselves on long-term deals," team owner Joe Gibbs said, but would not reveal the terms. "Denny's done a great job for us and he's done a great job for FedEx."
Hamlin, 31, made his debut with JGR at Kansas Speedway in 2004. After moving to the Sprint Cup Series full time the following season, the Chesterfield, Va.-native qualified for the Chase for the Sprint Cup for six consecutive seasons with crew chief Mike Ford calling the shots.
Although Hamlin and Ford parted ways after last year, defending championship crew chief Darian Grubb has taken over the leadership of the No. 11 JGR team. Hamlin is currently eighth in the points standings.
In 239 career Cup starts, Hamlin has amassed 19 wins, 73 top-fives and 119 top-10 finishes.
Although there are rumors of Matt Kenseth joining JGR, Gibbs opted not to speculate. When asked whether an announcement could come in mid-August, he simply chuckled.
"We're still trying to re-sign Joey (Logano)," Gibbs said. "We're working real hard right now on extending him and his relationship with us. We've had a great relationship, signed him when he was 15. We've got a lot invested in Joey. I think right now he's stepping up, and we want him to be with us.
"I think right now, all of that is things that we're working through. I think there is the possibility of us being either three or four (teams), and it's been that way for a couple years, but that's kind of what we're working through now. I think both of those are possibilities."
With the exception of FedEx, there's been talk of juggling sponsorships at JGR, particularly if Kenseth can be married up with Home Depot so the sponsor could compete in the home-improvement category against Jimmie Johnson with a former champion and Daytona 500 winner.
"I think part of what we've got going on with us right now — there's a lot going on," Gibbs said. "So the things I talked about ... Joey, we want to get that done. Everything else is kind of up in the air for us right now."