CUP: Hamlin Second On Hendrick's Night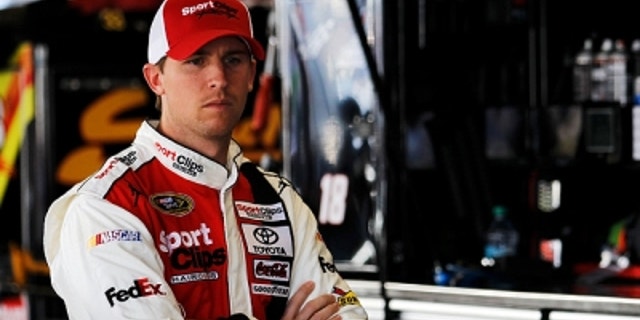 Denny Hamlin happened to be in the wrong place at the wrong time – racing for a win on a night in which Hendrick Motorsports finally put its power to the ground and returned to victory lane.
Hamlin followed winner Jimmie Johnson to the finish line Saturday night in the Southern 500 at Darlington Raceway, missing a shot to score his third win of the season as Johnson rang up his first.
Hamlin was third on the final restart with two laps to go, quickly passed Tony Stewart for second and stayed there the rest of the way.
Hamlin was positioned immediately behind Johnson on the final restart but said his plans for the final two laps didn't pan out.
"I was trying to time the restart to when he (Johnson) was taking off, I was on his bumper pushing," Hamlin said. "But I have a problem spinning my tires. I've got to figure out how to get better restarts, whether it's priming my tires more on the backstretch or whatever it takes.
"It was hairy. There was a point where I got sideways and somebody got in the back of me and I nearly wrecked. These cars are not built to go in a straight line, so it's hard to bump."
Hamlin was not overjoyed with his evening but was satisfied with a strong finish and a good points night.
"It was relatively uneventful," he said. "I got a Darlington stripe, and I try not to do that here. I didn't have quite the car we needed to win today, but second isn't bad.
"It was a great effort. Our finish is because of the crew chief (Darian Grubb) making good calls and the pit crew making good pit stops. It kept us in the ball game and kept us with track position up front."
Hamlin said he planned on taking only two tires on his last pit stop to get better track position, "but I slid through the box, and we had to take four. Had to battle back. Track position was so important."
Hamlin said the Darlington track surface was "10 percent better" than last year, "but it's going to take another five years for track position not to matter as much as tire wear, unless Goodyear builds a tire that wears out a little more. The surface still isn't wearing the tires as much as it should."
Mike Hembree is NASCAR Editor for SPEED.com and has been covering motorsports for 30 years. He is a six-time winner of the National Motorsports Press Association Writer of the Year Award.