CUP: Hamlin Looks To Learn During Absence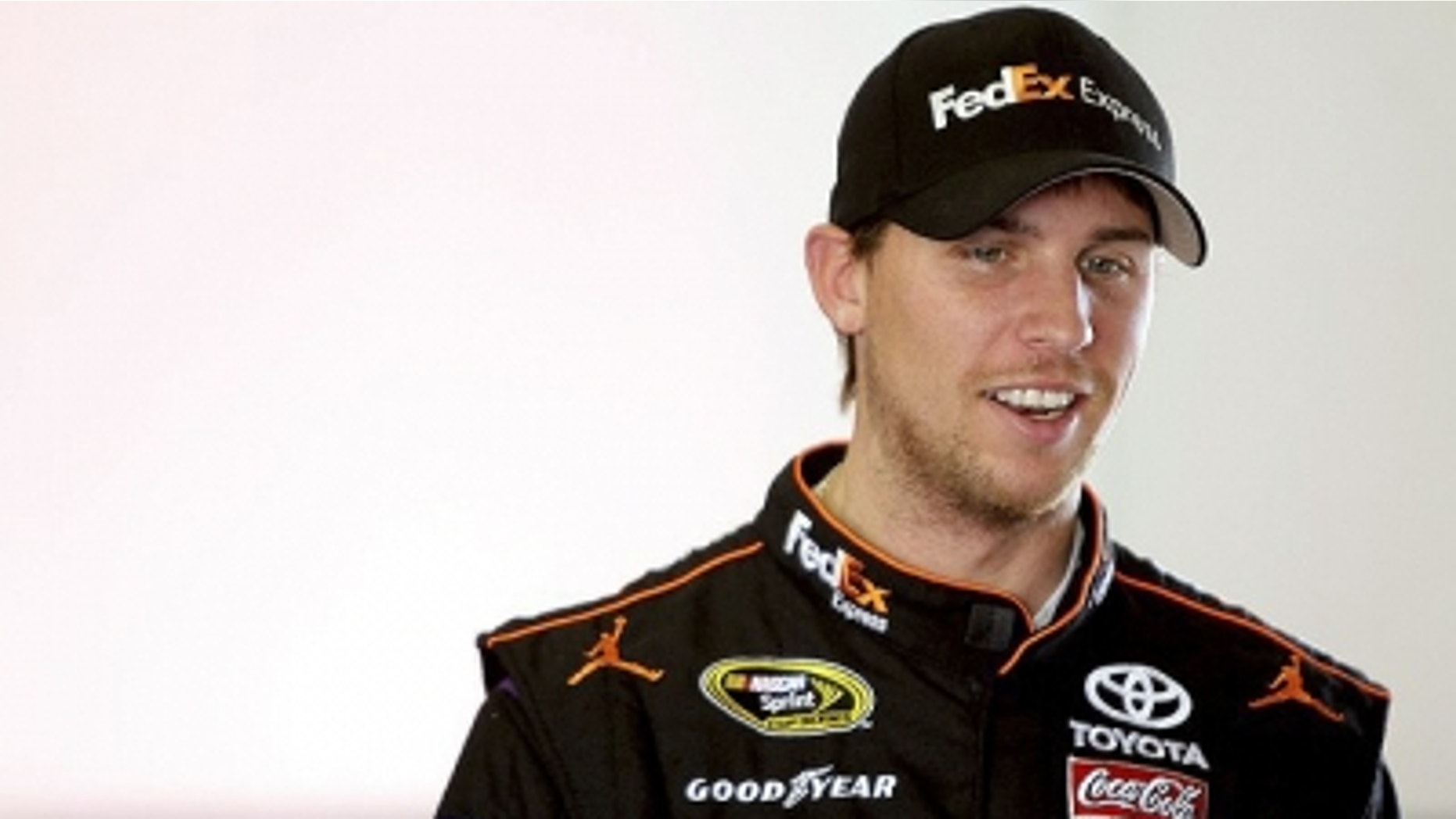 Telling a racer to slow down isn't easy. Especially a race car driver accustomed to traveling at speeds of 190 mph.
And backing down wasn't an easy concept for Denny Hamlin to grasp. Then he discovered how severe the consequences from his grim wreck at Auto Club Speedway on March 24 might have been.
Hamlin, 32, suffered a compression fraction to his L1 vertebra.
"I'm thankful that my spine fractured where it did, and not up here," he said, motioning above the spot in his lower back where the fracture is. "Because, obviously, that could be very bad. The bone of my spine — if it didn't somehow just slice right through it — if it would had shifted and sliced my spinal cord, you have paralysis. And that's real."
Hamlin was airlifted to Loma Linda University Medical Center after the accident. Although he was able to walk out of the hospital the next day, it didn't prepare him for what was ahead. His follow-up visits with NASCAR medical liaison Dr. Jerry Petty of Carolina NeuroSurgery and Spine Associates and consultations with IndyCar orthopedic specialist Dr. Terry Trammell painted a clearer picture.
"I got really upset in the hospital in California when they told me what it was," Hamlin said of his injury. "I was in so much pain then — that I thought it was never-ending pain. It would never go away. So I thought that maybe I'm done forever. But I knew when they told me what had happened I was going to be done for a really, really long time. I didn't know what the extent was.
"I'm actually amazed in one week of being home that I feel 80 percent better than what I did when I originally started. As unfortunate as I was with the injury, I was very fortunate that it only was what it was and it's allowing me to at least get up and enjoy six weeks kind of on a vacation and spend more time with my daughter and not be flat on my back for six weeks."
Hamlin is still under medication and wearing a brace — and likely will be for some time while his spine heals. He admits that's "frustrating" but necessary to limit his spine's movement so it will heal.
Hamlin's overall mobility has improved the past several days. In addition to doctor visits and physical therapy several times a week, Hamlin is taking walks in the park and insists "it's good for bone growth." He's hoping the therapy will keep him conditioned for when he's able to return to action — whenever that may be.
Hamlin said that Petty and Trammell share "similar concerns but different outlooks" on his time frame for recovery.
"Until they rescan me, I don't know what I got," Hamlin said. "You're not going to heal a fracture in two weeks, so they know there's no sense in scanning for the next three weeks."
Hamlin was told by his physicians the pain would subside well before he healed. And although he's over the "physical" portion of his injury, Hamlin acknowledges he's still dealing "with the mental part."
Although he feels as if he could climb in his car and "win Martinsville right now," obviously, that's not the best medicine for Hamlin.
Yes, Hamlin acknowledges that sitting out this weekend will be brutal. But he still expects to attend the race at Martinsville Speedway — a track where he has four wins in 15 starts and the third-best average finish on the circuit (8.2). Hamlin is hoping to provide moral support and see what he can ascertain from the sidelines.
"This will probably be a good opportunity for me to learn a lot," Hamlin said. "I know just going and sitting in the pits and on a pit box watching a Nationwide race, you learn more than you really think you do. I'll take this opportunity to put on a radio, whether it be practices or whatever, and just learn."
Mark Martin is scheduled to drive in place of Hamlin this week, and Brian Vickers will take over after that.
"I think I can continue to get better and to do that, hear what Mark and Brian have to say," Hamlin said. "I know the characteristics of my cars when we go to these tracks and what we fight every time. So, do they fight the same thing? What are their ideas? I think we have two very, very good drivers that can compete for race wins. I need to spend this time learning instead of just being passive."
He's shooting for the end of the month, when the Sprint Cup tour returns to his hometown track, Richmond International Raceway, which Hamlin says "is possible." It's also the site of Hamlin's annual charity race on April 25.
If it were just a matter of accepting the pain, Hamlin would suck it up and race. That's what the Chesterfield, Va., native did after tearing the anterior cruciate ligament in his left knee while playing basketball three years ago. But Hamlin realizes that his spine injury is far more serious.
"This one is not a pain tolerance injury," Hamlin said. "This is a 'we need to protect you from you' injury. They have to look out and make sure that I don't harm myself further and really jeopardize my career in the long term.
"I can respect that. No one season is worth changing your whole life over. If it's four weeks or six weeks or 12, I'm just going to have to accept it. I'll change my outlook and circumstances on the racetrack when I'm able to strap in and I see all the possibilities of what I can do, whether it be Chase or if I just have to go out there and race for wins the rest of the year. I'll address that accordingly based on the time frame."