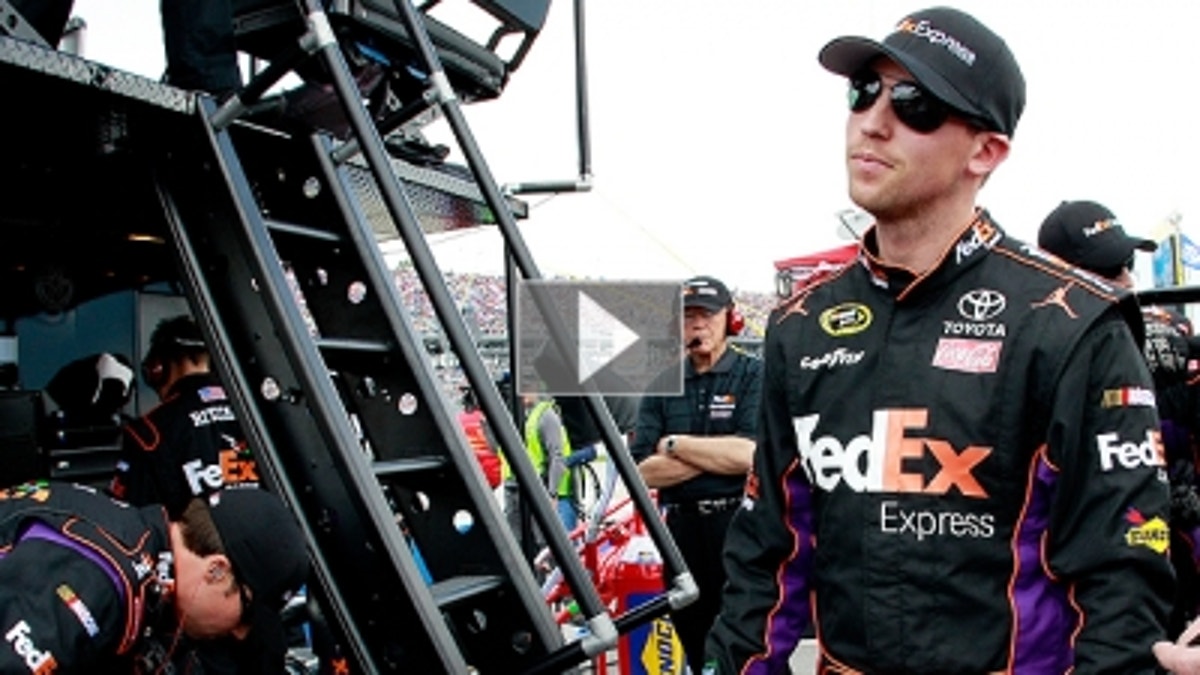 Denny Hamlin returned to action at Talladega Superspeedway on Sunday, but his run was short-lived.
After missing the past four NASCAR Sprint Cup races because of a broken vertebra, Hamlin was cleared to race this weekend. He ran only the opening segment before being replaced by Brian Vickers in the car.
What did he think of his Talladega run?
"The speed of it is the biggest difference here," Hamlin said. "I'm driving around there and never thought anything of it before, but the speed kind of catches you off guard a little bit, especially when you haven't done it for a month-plus.
"It was all different to me, but it still, no matter what my involvement today was, I at least had something that I could do and something that I could contribute to the race team."
Hamlin started seventh on Sunday after qualifying was rained out and the lineup was set by the speeds in Friday's first practice. After Trevor Bayne's Ford expired and brought out the first caution on Lap 24, Hamlin had a "window" to swap seats with stand-by driver Vickers. He opted to use the roof hatch instead.
"The exchange went great," Hamlin said. "Really, that was about as smooth as it's went for us. Obviously, we've had a few repetitions at it. That was about the quickest that I was able to get out, so everything went well. I had a checklist in the car with things that I needed to do before I got out to switch over for the next driver. Everything really went seamless and painless.
"I feel good. Every week I feel a lot better, and really this is the best I've felt physically in, gosh, months since I felt this good. So, I'm definitely looking forward to going back to full competition next week."
Although Vickers returned to the track, his run was shortened, as a 16-car wreck ignited in Turn 1 after Kyle Busch clipped the rear end of Kasey Kahne and collected Vickers' No. 11 Toyota in the process. Hamlin went to the garage to offer his support, but it took 44 laps for his Joe Gibbs Racing team to make the necessary repairs. Vickers returned to the track on Lap 86 and was 35th when the Aaron's 499 was red-flagged for rain after 125 laps.
Still, Hamlin described the experience as "good." He said the most difficult part of his sabbatical each week was "watching the cars go off the starting grid" before heading into battle.
"I didn't have to endure that pain this time around, but it is just tough now just having to watch, especially this type of racing, where it's so circumstantial," Hamlin said.
Perhaps the greatest lesson Hamlin learned on Sunday was the level of respect his fellow competitors have for him. Hamlin expressed his appreciation to several of his fellow competitors on the radio after his stint for racing him cautiously under the circumstances and helping him to remain in the draft.
"I got to thank all of the drivers — (Juan Pablo) Montoya and (Tony) Stewart and Michael (Waltrip) and (Ricky) Stenhouse (Jr.) that really sacrificed the first part of the race for me, and I can't thank them enough," Hamlin said. "It means a lot as a driver to have peers that have got your back like that."