CUP: Hamlin Brings Swagger To Season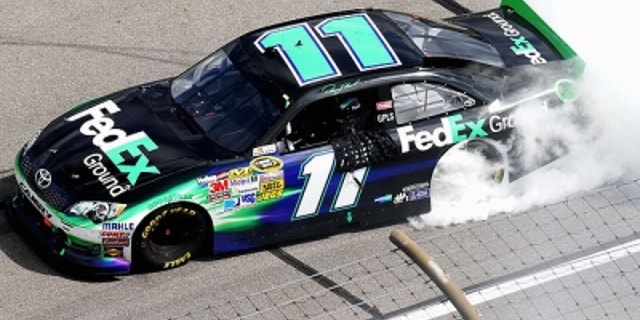 Denny Hamlin's on such a winning roll this NASCAR season, even his biscuits turned out great.
Hamlin won last week at Kansas Speedway, his second Sprint Cup victory of the year. Now, Hamlin is heading to Richmond, one of his favorite layouts. It's a place where he's won two of the past four races and usually where he kicks his season into high gear.
Hamlin is eager to keep things going. "Nothing says I can't win four, five in a row here the next few weeks," he said Wednesday. "It just seems like there are a bunch of good tracks here for us."
These days, almost anything Hamlin gets a hand in becomes a success.
He's having one of his best starts since joining the Sprint Cup series full time in 2006, winning at Phoenix and Kansas and posting top fives at Daytona and Bristol. He's fifth in points and, with two wins, already has his eyes on NASCAR's championship chase.
Earlier this month, Hamlin caddied for good friend Bubba Watson in the Masters' par-3 tournament -- a few days before Watson won the green jacket. "He's just a good `ole golfer," Hamlin said.
Hamlin was all smiles again Wednesday, stopping by Darlington on his way to Richmond to visit fans and find out firsthand how to make biscuits at Bojangles. The fast-food chain recently signed a five-year deal to become the Southern 500's title sponsor and Hamlin eagerly stuck his washed hands into the dough to press out the flaky biscuits.
Hamlin also worked the front counter, dishing out chicken, mashed potatoes and gravy to the lunchtime crowd. When one customer thanked him for a good biscuit, Hamlin grinned with pride.
"I made it myself," he answered.
Hamlin feels ready to press out a several more wins the same way.
"I've never gone to Richmond on a win," said Hamlin, who was born in Florida but grew up in Chesterfield, Va. "It's always been where our momentum boost is winning at Richmond."
It will be a jam-packed weekend for Hamlin, who hosts the fifth Denny Hamlin Short Track Showdown on Thursday night. The race includes past JGR teammate Tony Stewart and current teammates Kyle Busch and Joey Logano. Hamlin says the money raised will help raise awareness and funding for the specific needs of individuals afflicted with cystic fibrosis along with other programs that support chronically ill children and underprivileged youth.
Hamlin was on hand last week to donate $150,000 from his foundation to Children's Hospital of Richmond at VCU.
The donation "just shows how much our foundation has grown, how much this (charity) race has grown over the last few years and we're so excited about the outlook. We're trying to schedule even more events to help raise some more money," Hamlin said. "It's a slow process, but we're getting there."
Hamlin's also close to reeling in golf's Watson for a NASCAR ride. He got the Masters champion a fire suit and helmet. "I tell him he might as well go ahead and strap in," Hamlin said.
Hamlin credits much of his team's hot start to new crew chief Darian Grubb, who joined JGR this offseason and went to work on the car while Hamlin took an extended break from the race shop with some rest and golf in Scottsdale, Ariz.
"Different strokes for different folks," Hamlin said. "Some people get focused for racing by being in the shop for two straight weeks before the season starts. For me, it's to not even see a race car before Daytona."
The 30-year-old Hamlin had been racing full-speed since he was 8. "I just needed a couple of months to get away from it," he said.
Hamlin acknowledged he's still learning Grubb's style and thought it might take until June before the team clicked with a victory. Things have worked quickly, giving the team a chance to test sets ups at venues in the 10-race title chase this fall and allowing Hamlin to gain a confidence he's never felt before.
Hamlin won eight races in 2010, yet remembered an exhausted team worn down by a grueling season. Hamlin sees plenty of energized faces from the No. 11 team during race weeks.
"It's really come together," he said.
Hamlin pulled off another milestone with last week's victory, making the No. 11 car the winningest number in NASCAR history with its 199th all-time win. The list of drivers who took No. 11 to victory lane is a who's who of greats like Parnelli Jones, Junior Johnson, Bobby Allison, Ned Jarrett, Mario Andretti, Buddy Baker, Cale Yarborough, Darrell Waltrip and Bill Elliott.
Hamlin's latest win gave him another goal to chase -- reaching No. 200 before the Hendrick Motorsports quartet of Jimmie Johnson, Jeff Gordon, Dale Earnhardt Jr. and Kasey Kahne post that program's 200th win.
"It's going to be tough to hold back four good cars like they've got," he said. "But I'd love to get to 200 before they do."
The way Hamlin's going, nothing seems impossible.