CUP: Hamlin Awaits Decision On Return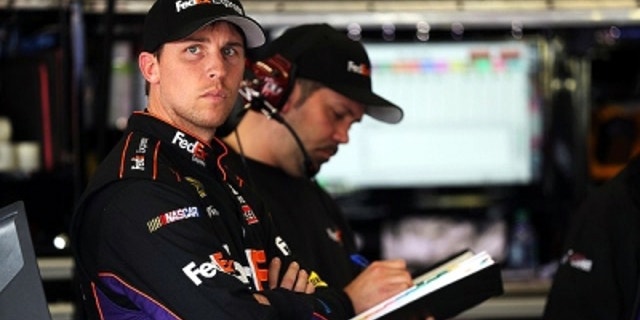 Denny Hamlin remains in a holding pattern concerning whether or not he can race this weekend.
Hamlin is awaiting final word on whether or not he is cleared to compete at Richmond International Raceway this weekend and does not expect to have that until after business hours today. Dr. Jerry Petty has to give final approval on clearing Hamlin.
"There's a large team of doctors that have to have a consensus so until all of them have the images, we're still waiting on that," Hamlin said. "They should have them this morning. Hopefully, by the end of the day, everyone will have consensus, will have time to look at it and review what's the safe thing to do.
"I'm preparing (to be in the car). The team is preparing for it. Like I said last week, it's 50-50. I haven't really got a concrete answer one way or another. So I'm just kind of waiting for them to tell me what they're comfortable with."
Hamlin, 32, suffered a fractured vertebra following a vicious crash after contact with his former Joe Gibbs Racing teammate Joey Logano at Auto Club Speedway on March 24.
Although Hamlin's condition has improved, the injury further exacerbated the bulging disc in his back, which has caused the driver chronic pain for some time. Hamlin said that if he can not return at full strength, he would prefer to go ahead and have surgery since this season is already in jeopardy.
After missing the last three Sprint Cup races, Hamlin was optimistic he would return to the No. 11 Fed Ex Toyota at his hometown track where he has two wins and the second best average finish on the tour – 8.1.
RIR is also the site where the driver is holding the Denny Hamlin Foundation Short Track Showdown Presented by FedEx – his annual charity Late Model race -- on Thursday night.
Hamlin was in Washington D.C. on Wednesday to promote how the American Red Cross helps small businesses to prepare for disasters.
Should Hamlin return to action at Talladega, he is expected to start the race, but will have a back-up driver complete the event due to the precarious nature of racing on the 2.6-mile superspeedway.